Graham Reid | | 2 min read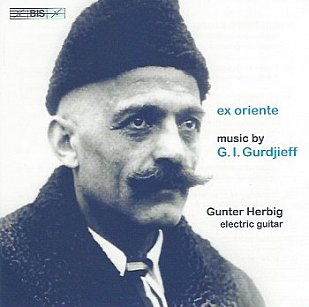 The itinerant, late 19th/early 20thcentury philosopher and teacher George Ivanovich Gurdjieff (d 1949) was a seeker after fundamental truths (notably who are we and why are we here?) and became a spiritual leader with an interest in esoteric literature and thought.
Among his pupils were PD Ouspensky and JG Bennett, and he influenced the likes of Zen teacher Alan Watts, English novelist and philosopher Colin Wilson and architect Frank Lloyd Wright.
Ouspensky's book In Search of the Miraculous is perhaps the starter for anyone curious about this remarkable man (who admittedly also divided opinion).
In addition to travels to Afghanistan, Centra Asia and Tibet in search of answers, Gurdjieff – of Greek and Armenian parents born on the border of Turkey and Russian Armenia in the late 19thcentury – also practiced and taught a series of exercises (and dances) as well as writing music inspired by what he heard in monasteries and temples. These were transcribed for piano by his student, the composer Thomas de Hartmann . . . and which Keith Jarrett interpreted on his 1980 ECM album Sacred Hymns (which erred to the mystical Christian end of Gurdjieff's spectrum).
Gurdjieff's music is vast – around 300 pieces – and he played many of them to Hartmann on guitar which were then transcribed into delicate piano pieces.
There is an elegant and elemental simplicity about much of them and Gurdjieff preferred the meditative quality of music which Hartmann respected.
Given Gurdjieff played many of the pieces on guitar it seems natural that guitarist Gunter Herbig – formerly a guitar teacher at Auckland University and head of chamber music at the NZ School of Music in Wellington – should be taken by this music.
On electric guitar, Herbig ranges more widely than Jarrett in that he interprets pieces from across a wider spectrum including some of the musical sketches for a ballet that Gurdjieff and Hartmann worked on, material related to Dervish and Sayyid influences which the philosopher heard on his travels, and a few of the Christian pieces.
Among the latter are the beautiful, glistening and contemplative The Resurrection of Christ (which Jarrett did as a more melancholy and concise piece) and the sublime simplicity of Meditation, both of which benefit from the warm precision of Herbig's playing and the gentle sustain of guitar.
Two of the more expansive pieces are based on the notion of Sayyid music, as Herbig observes in the extensive liner notes "no music . . . . can be directly attributed to them" but the pieces evoke that of Mevlevi Dervishes.
These pieces are Sayyid Chant and Dance, and the closing, quite outstanding Reading from a Sacred Book with shimmering bass notes. Both pieces allow for subtle improvisation and the creation of a rhythmic pulse.
While this may seem an almost academic project – the first such interpretation of Gurdjieff's music on electric guitar? – this quiet, considered and intimate music never feels like that in Gunter Herbig's assured and empathetic hands.
So, a Brazilian-born guitarist who grew up in Germany and Portugal, lived and worked in New Zealand, here playing music by a Greek-Armenian born near the border of Turkey whose music based on travels to Tibet and Central Asia was transcribed by a Russian?
And it appears on a Swedish label?
Remarkable world, isn't it?