Graham Reid | | <1 min read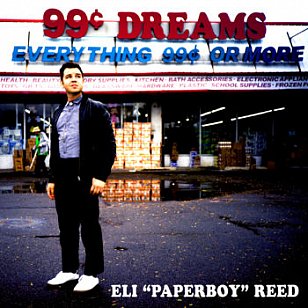 Channeling the sound and spirit of classic soul (Smokey, young Otis and Marvin, Al Green, Sam Cooke and more), Eli Paperboy Reed -- a white guy originally from Massachusetts, now in his mid 30s – has seriously immersed himself in blues and soul.
His track record has been convincing and this album – recorded at Sam Phillips' studio in Memphis with local black backing singers the Masquerades – successfully adopts all the musical and lyrics tropes of Sixties soul (with a Memphis twist of horns of course).
The poppy title track features legendary rapper Big Daddy Kane and there are discreet hints of gospel in Reed's yearning delivery (the secular Coulda Had This).
Sometimes the template is rather obvious and there are lightweights among the 12 songs (Holiday a prime offender), but six albums in and Reed has established a reputation, a loyal fan base and picked up awards.
However you don't get the sense he's known in the wider, more mainstream world.
Good enough though this is, 99 Cent Dreams probably isn't the album that will help him achieve that.