Graham Reid | | 2 min read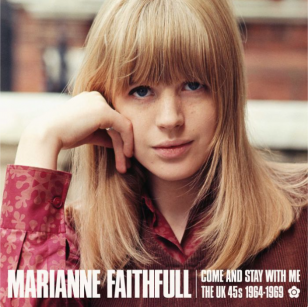 On her Strange Weather album in '87 and No Exit (live from 2016), Marianne Faithfull delivered more definitive versions of the song As Tears Go By which Jagger-Richards wrote for her in 1964 when she was a seemingly chaste Catholic schoolgirl full of innocence.
Back then she sang it as if in a drawing room, the young Elizabethan girl looking out the world beyond the window and knowing she was trapped in this loveless marriage to His Lordship. The flipside of that debut single was . . . Greensleeves, arranged by Andrew Loog Oldham.
Well, it's interesting what heroin and life can do to you, and by the time she was revisiting it two decades and more later, those things had happened and it was a darker, more mature and authentic voice she brought to the song. Now she seemed more like Miss Havisham in a cobwebbed room reflecting on the distant past in a droning voice weary with defeat.
She'd grown into the lyric, at quite a cost.
This 22 song collection – subtitled The UK 45s 1964-1969, with liner notes by Kris Needs – traces an arc from innocence to experience: from As Tear Go By to Sister Morphine which she wrote with Jagger and Richards.
That was quite a journey in just a few years which saw her married, have a child, separate to take up with Jagger, be a part of the increasing dissolute end of the emerging counter-culture in London, getting into coke and smack and arrested . . . and then Sister Morphine.
Of course in those early years no one really knew what to do with that beautiful voice which was like a little sister version of Joan Baez or a quivering folk chanteuse from Paris.
Her version of Greensleeves is actually remarkably good but then it was on to to Dylan's Blowing in the Wind and an effective House of the Rising Sun (also done by Dylan) before she broke through again with her sublime version of Jackie DeShannon's folk-rock Come And Stay With Me. On that song the gracious girl of the drawing room was much more sensual and offering a real come-on.
At this point (1965) the pop world and Faithfull were maturing at a rapid rate: her version of Mike Leander's mysterious Morning Sun a real soft-psyche discovery, and Jon Mark's Go Away From My World.
And although this collection is obliged to include her versions of Donovan's okay-but-not essential The Most of What is Least, the dull Summer Nights which can't be elevated by the arrangement (nope, it's not the one in Grease) and McCartney's Yesterday (imagine her singing it in '87) the more important songs lie around those those.
And she she reached across to Mike Leander's oddly martial arrangement of Et Maintenant/What Now My Love? in French (because she was fluent) then wrote her own material for B-sides: the European-sounding ennui of Oh Look Around You and the folk-rock of I'd Like to Dial Your Number.
But her career path wasn't established – so there was a Goffin-King cover (Is This What I Get For Loving You?, not a patch on the great Ronettes' Spectorized original) and the Goffin-Mann ballad Something Better.
Ironically it was when something worse came – serious drugs, the Stones' lifestyle – that she found her true voice on Sister Morphine, the sound of someone slipping away . . .
As she did for many years before coming back as the woman we know now as the art-house singer from the lower reaches as "Marianne Faithfull".
But here she is on this well-essayed collection from just five years in the Sixties when she went from drawing room to hospital ward.
Quite a journey which few would have survived.
At the time of this writing she's still here – after how many tears have gone by? – at 72.