Graham Reid | | 1 min read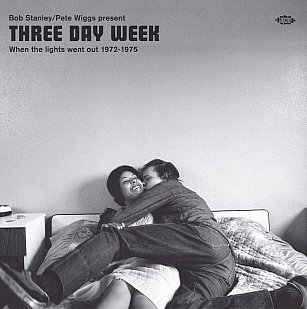 Think of the musical landscape of Britain in the early Seventies: the glam-camp of Bowie and T Rex and Wizzard; prog-rock by Genesis and the Moody Blues, the heavy boots of Led Zeppelin, Black Sabbath, Deep Purple and others; the art-rock of Roxy Music, mainstream pop and Hawkwind . . .
Well, there was another more depressing Britain as this 26 song compilation – subtitled When The Lights Went Out 1972-1975 – reminds us.
This was a Britain where the colour and optimism of the late Sixties had withered, where there were strikes, the imposed three day week, powercuts and blackouts . . .
This was the other landscape, the one which give birth the angry generation which made and embraced punk.
Even a lot of pop during this period had a grimness about it, or a grimace.
This collection by Bob Stanley and Pete Wiggs – which opens with the demo of Part of the Union ("you don't get me, I'm a . . . .") by Brothers (aka Strawbs), moves towards the Kinks' When Word is Over (from their Soap Opera album) and on through oddities like Adam Faith's bleak In Your Life, Mike McGear's Kill (actually Kill the Pope), Hawkwind's Urban Guerrilla ("I make bombs in my cellar") and the Edgar Broughton Band's bitter Home Fit For Heroes which reflects on the real Britain beyond the blind nationalism.
This is a pretty dark ride (the bellowing stomp-rock of War Against War by Pheon Bear sounds positively optimistic in this context) and it goes out with David Essex's Stardust from the closing overs of the film of the same name when the rock star overdoses and dies on live television.
Cheer up, you'll be dead soon.
Even the Troggs and Mungo Jerry weighed in with negativity and anger in the non-hits included on this journey.
With an explanatory essay by Bob Stanley – who notes the context, the place of the songs in the artists' careers (if they had one) and band/writer minutiae – this is a fascinating counter-narrative . . . but thank God for the faux-glam instrumental Breathless by Bombadil (actually Woolly Wolstenholm of Barclay James Harvest) which induces a smile.
No, it's not as dark as a Joy Division album. But they weren't too far off in the depressing future.