Graham Reid | | 1 min read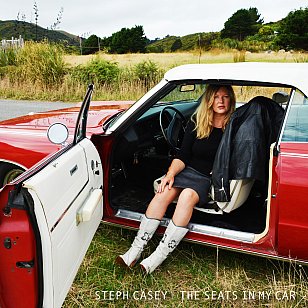 Recorded at Lee Prebble's Surgery in Wellington and backed by the likes of Caroline Easther, Allan Galloway, Murray Costello and others with impeccable pedigree, this second album by the acclaimed indie.folk singer Steph Casey – whose debut Whisper and Holler went top five here at home and got favourable notices internationally – confirms a strong and unique talent.
After the opener At a Bar Downtown – less a fully formed song than a musically embellished reflection – this hits a sharp stride with the downbeat alt.country-cum-cabaret ballad The Tale of Hannah Mae (with woozy trumpet and keening guitar).
Then it is down into an aching but crisply realised Old Love which yearns with lyricism over a simple acoustic guitar and shuddering electric passages.
The lovely Hold On has one of those simple, cleverly constructed and sublime pop-folk melodies which really grips, but with subtlety.
This is a short album – just seven songs, one a dark prog-folk instrumental – but it packs in a lot of information. Long Drive at the midpoint is a highpoint.
And if Casey often broadcasts on a similar frequency throughout – you may yearn for something with a more assertive backbeat as on the pop-rock closer Sebastian which might have been better placed further up the running order, and some further emotional uplift of the kind on Hold On – then this mostly sounds deliberately crafted for intimate folk club and attentive home listening.
You can hear the album on Spotify here.
The Seats in My Car album release tour
Aug 17: Lucky Bar and Kitchen, Whanganui
August 24: Third Eye, Wellington
December 6: Le Cafe, Picton
December 7, Mussel Inn, Takaka