Graham Reid | | 2 min read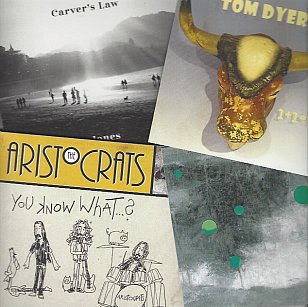 With so many CDs commanding and demanding attention Elsewhere will run this occasional column which scoops up releases by international artists, in much the same way as our SHORT CUTS column picks up New Zealand artists.
Comments will be brief.
Jones: Carver's Saw (Meme Records)
Dedicated to the late Mark Hollis of Talk Talk ("a man of principle and a major influence"), this 15-song further installment of (mostly) poised piano-based ballads by Trevor Jones (who with longtime friend and co-producer/arranger Marcus Cliffe were Miracle Mile) comes with empathetic contributions from Not Drowning, Waving's David Bridie (piano, synths) and guitarist John Phillips, pedal steel guitar (BJ Cole) and saxophones (Gustaf Ljunggren).
In places Jones has some of the lyrical refinement of Leonard Cohen (Have a Sunset on Me) but – as always – he very much has his own reflective philosophical stance in a world of sweet sounds and cold coffee, inertia but where decisions mundane and pivotal are to be made, and where benign Nature co-exists with images of urban life The arc here is bookended by the ambiguous conclusion "you're better off drinking alone".
As always with Trevor Jones, pour yourself a worthy glass and settle in for deep thoughts made into enticing songs.
And The Moon Lead Me Home, by Jones
Tom Dyer: 1+1=? (Green Monkey)
The Green Monkey label boss Tom Dyer continues on his idiosyncratic way (an album a year in the past decade), this time taking a sideways a step away from left-field rock/pop and into what are nominally "duets" . . . although he sings everything and the other party – often friends on his label – may contribute vocals (his daughter Kat, Amy Denio) or is an instrumentalist or arranger (Jim of Seattle for the opener Everything in the World is Returning to a State of Nature).
So no, this isn't anywhere close to Natalie and Nat King Cole, or Frank and Nancy Sinatra but more like spontaneous events (When Roger Took the Bus recorded on iPhone when he walked in on his son Ben and his friend Roger Royset tinkering on guitars and ukulele); strange, cheap and funny electro-pop (Meditations on Prince Bowie which sort-of compares Prince and Bowie) or the appropriately bent A Girl Named Rainbow which is an unrecorded ballad written by Ornette Coleman and delivered here courtesy of overdubs.
Yes, he is idiosyncratic but this is appealingly odd and engaging.
Chet, by Tom Dyer
Modern Studies and Tommy Perman: Emergent Slow Arc (Fire)
The delightful contemporary folk of Modern Studies we know ("these waters run dark and deep" we said of their Swell to Great album which provides the stepping off/in point here) but sound designer Tommy Perman has not crossed our path, but we are glad he has.
It seems he – like us – was seduced by Swell to Great and so used the songs as the basis for these deft, quasi-ambient electronic reimaginings. So it isn't a Modern Studies album but rather exists on a seductive soundscape lineage with near neighbours like Aphex Twin, various Erased Tapes and 4AD artists, space-lounge and . . .
You needn't have heard Swell to Great – in fact it's probably little help at all – to immerse yourself in these tracks, which oddly enough still appear in Modern Studies catalogue on Spotify here. It's a Perman album by any other name . . . and we are now off to explore his vast back-catalogue.
A real, but quiet, find.
Spectral Canon, by Modern Studies and Tommy Perman
The Aristocrats: You Know What? (Boing!)
And now for something completely different! The Aristocrats are a US jazz-rock trio of guitarist Guthrie Govan, bassist Bryan Beller and drummer Marco Minneman (the latter not credited on the cover but in the photo). Among their various credits outside the band are work with Steve Wilson, Joe Satriani, Hans Zimmer and Steve Hackett, so here you get tastes of their impressive musicianship from the grungy opener D Grade Fuck Movie Jam through the flamenco rock of Spanish Eddie and the straight-ahead pop-rock/jazz of the toned down All Said and Done to throwbacks towards Steve Morse's catch-all style or blitzkrieg head-banging.
You'll consider this impressive . . . if you follow Guitar Player, Downbeat and Kerrang!
Terrible Lizard, by The Aristocrats