Graham Reid | | 1 min read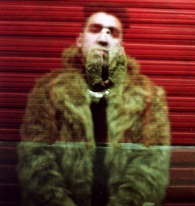 This Auckland artist with serious r'n'b chops and rap in his armoury here presents a collection of 11 pieces which not only roams freely across genres (with some sampled funk and such) but sometimes within the same piece.
As on the appropriately entitled opener Jumble.2 which sounds exactly that as it pops from funk to AutoTune-soul then rap ("running away from the linear") and . . .
It comes off as an ADHD two and half minutes and is somewhat off-putting as you wait for it to decide what it wants to be. (Answer: All of the above.)
Fortunately much better follows when he and producer/co-conspirator EDY (Edward Liu) rein in the magpie tendencies for the slippery rap of Dreamstate, the liquid r'n'b ballad Hangout which comes with sensual vocals by Jamie-Rose, City Millennial being a soul-filled slo-groove with a wonderfully weary tone, Detox kicking in a hard-beat rap with Juwan and EDY . ..
And despite it's odd title, Cheddar Cheese and Ecstasy is a tick-tock r'n'b track which is hard to shake.
With two albums out this year 21-year old Sam Verlinden might seem a young man in a hurry but he's also been around a while and has some serious credentials: He started posting clips on YouTube well over a decade ago, his 2016 song I Just Wanna Love U was picked out of many applicants by the ANZ for an ad campaign and Parris Goebel and her crew did the video for it (which reached over two million on social media), he's had many millions of clicks on his YouTube videos and done television work . . .
It's a crowded world out there for all artists, especially so in the r'n'b/rap genre, but Sam V (and the Y$O collective he and EDY lead) is worth taking the time over.
Maybe skip the opener though which seems an unnecessary showcase of the talent which makes itself known soon enough.
You can hear I Made This While at Spotify here.