Graham Reid | | 1 min read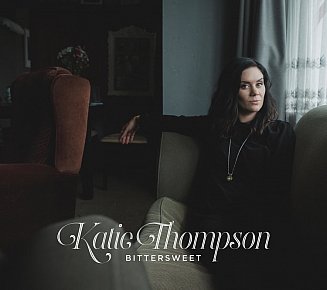 It's been a while since we've heard the aching soul-folk and chiming country-rock of Katie Thompson, not since 2011's impressive Impossible in fact.
And like that album, this seems to have been crowdfunded (with some well known musicians in the list) which confirms she is a self-starter with a wide and deep support base.
As she deserves.
Co-produced with Ben Edwards in his homely Lyttelton studio (with drummer Ryan Fisherman and bassist/guitarist Elmore James also sharing credit), these polished songs address all the themes in the genres she commands: yearning and regret in the Take Me Back; drifting apart on the suitably downbeat Waiting with a backdrop of weeping guitar; intimacy and parental love on the atmospheric ballad Precious Little Moments (written with Liv Cochrane); self-doubt on the dark closer It Ain't Easy which neatly bookends the album after the similarly aching opener about betrayal I Was Once Your Everything ("tell me when did you fall out of love").
Bittersweet indeed.
But not always: Alcohol and Pills is a country-rocker acknowledging those often misunderstood outsiders like Hank Williams, Elvis, Janis, Gram and Jimi; and Straight Talkin' Woman is rockin' stomper ("I ain't got time for bullshit, even less for games") out of the Gretchen Wilson/Redneck Woman playbook which should easily find a home on Southern Stateside country radio.
At times the lyrical shifts between local vernacular and Americanisms (notably on the narrative of Rough Seas where we slip from Hokitika without a dime to going to the capital as a greenhorn) can feel a little jarring . . . especially in this context where she also joyfully celebrates the history and wildness of her home turf on the West Coast ("forest green and full of life 'cause it's usually pissing down") which will go down a treat between Karamea and Te Anau.
And on the quietly considered Rock and Roll co-written with Edwards she sings of the lot of the touring singer-songwriter ("why don't you play something we all know, like Voodoo Child or Copperhead Road . . . ").
Katie Thompson has always had something to say and these 11 songs confirm that again as they cover a lot of emotional, genre and geographical territory.
Good to have her back.
Katie Thompson's Bittersweet is released on Friday September 6 but autographed copies can be pre-ordered from her website here.