Graham Reid | | 1 min read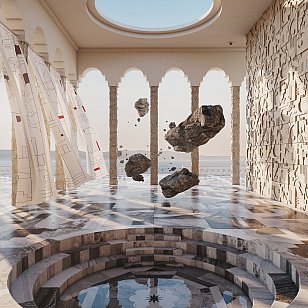 As with so many Scandinavian art music/rock bands, the Danes behind Efterklang bring some considerable influences from classical music (contemporary and traditional) to what they do.
So baroque-pop and chamber music inclinations sit alongside intimate ambience, the broad scope of soundtracks, a symphonic grandeur and work with choirs or orchestral instruments (if not the whole shooting works).
After a substantial break, Efterklang – a core trio and often many fellow travellers – return with this earnest, nine-song album which often manages to be intimate and yet heroic in scope (as on Haender der Abner Sig which moves from up-close ballad to cinematic breadth then back to a long, slowly dissolving chord).
The last half of the poised Supertanker on this, their fifth studio album, owes as much to Terry Riley/Philip Glass repetition as it does to the choral scope of Sigur Ros which washes in over the top.
And that bubbling of repeated figures on synth keyboards also sets the backdrop for I Dine Onje and the seven minute Hold Mine Haender which becomes increasingly baroque with trumpet sounds and then a choir.
Vocalist Casper Clausen – who is centre-stage throughout – sometimes doesn't quite possess the rounded warmth of Anohni or Jonsi (of Sigur Ros) when he sings from somewhere just beneath the high cloud cover . . . a bit too sharp given the aural context (Uden Ansigt).
Yes, this time out it is all in Danish too . . . but Sigur Ros' invented language didn't seem to trouble many. However their music was more choral than this, where Clausen is very much in slightly agonised ballad voice. So that does tend to work against this for non-Danish speakers.
The album title, incidentally, means "always together" which is an appropriate name for a guiding ethos and the fact that they have come back after seven years of other projects.
Not quite the enjoyable gloom-cum-soul of Piramida seven years ago or their atmospheric breakthrough on Tripper in 2004.
But a pleasant check-in with a band which doesn't want for ambition even if it isn't always realised here.
You can hear this album on Spotify here