Graham Reid | | 1 min read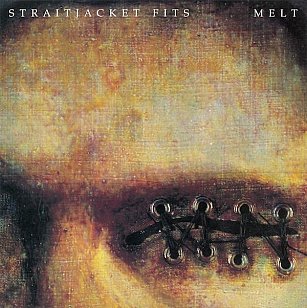 Wrapped in a striking cover (by the group's drummer/artist John Collie at a guess, my original copy has no notes), Melt was Straitjacket Fits' second album and the last with Andrew Brough who contributed the terrific, dreamy pop of the melodic Down in Splendour.
Record company people and fans at the time rightly thought that could have been their breakthrough single in the US. It was contentious however as Shayne Carter writes in his brutally frank memoir Dead People I Have Known.
For him it was too traditional and he wanted the band to push further, harder and be more sonically aggressive after their confident steps on the previous album Hail.
It was one of the wedges between the two songwriters.
Carter is right when he says the tunes he wrote for the album are among his strongest and the evidence is there in his Bad Note For a Heart and the sneering drone of Missing Presumed Drowned which open this strong collection, but also later in APS and the guitar noise of Headwind and the closer Cast Stone.
Although Carter and others were justified in complaining about the production by Scottish producer Gavin MacKillop even now the album stands proud beyond the elements of shoegaze (which has made a strong resurgence recently) and Pixies inclinations.
Melt has not been on Spotify but is now available on vinyl and CD for the first time since its release in 1990.
An important New Zealand album by any measure.
Released on September 27, you can pre-order it here. Good chance to get a replacement copy, if like mine yours is scratched to hell.