Graham Reid | | 1 min read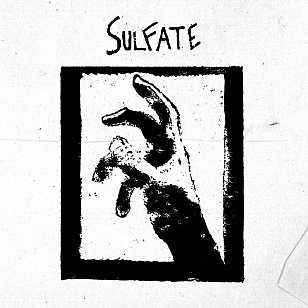 Sulfate is keyboard player Peter Ruddell of Auckland's famous "guitarless guitar band" Wax Chattels, a trio which delivers a sometimes melodic and often exciting noise live – and although that wasn't quite captured on their self-titled 2018 album it certainly pushed the envelope and was rightly shortlisted for the Taite Music Prize this year.
If Wax Chattels can be loud, commanding and in your face, Sulfate keeps things pared back, gloom-laden and in your ear. And at its most surreptitious, as on the funereal pace of Fetus, can invade the subconscious.
With Ruddell playing Fender Rhodes and guitar, with drums by David Harris, Lawrence Diack on cello for three pieces and vocalist Hariet Ellis on two, this nine song collection might rejoice in the mainman's dark brown vocals and vision but doesn't wallow too much in the shadowlands.
On Bush for example Ellis delivers her part like seductive spectral figure, and Cyclone Part 1 is a minimal, ambient miniature instrumental of picked keyboard notes and drone which sets up Part 2 with its more sledgehammer attack of distorted guitar and drums. It is grindcore doom-rock by any other name.
But Automatic Juicer is at times a woozy and intimate ballad.
Sulfate is not for everyone obviously, and maybe not even for those who like Wax Chattels. But if the idea of gothic (dis)comfort is appealing, then lie back and enjoy your medicine.
The Sulphate album is available on limited edition vinyl and cassette (with download code), or digitally through bandcamp here. The digital and tape options include an extra track at the end, the internal soundtrack of the seven minute instrumental Woods which is really worth hearing . . . in the dark.