Graham Reid | | 1 min read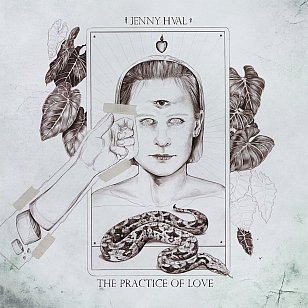 Norwegian multi-discipline artist (novelist, songwriter, sonic experimenter, collaborator) Jenny Hval is – like
Laurie Anderson
– someone who melds the spoken and sung word with unusual sonic settings and sometimes a kind of emotionally cool distance or a sensual whisper.
She is probably so far out of most people's orbit that it serves little purpose to note that on this, her seventh album, she draws on the services of Vivian Wang, Laura Jean Englert and Félicia Atkinson, as well as Lasse Marhaug (co-producer), Espen Reinertsen and Anja Lauvdal.
Not one a household name in Aotearoa, as far from Norway as you can get.
That doesn't matter because it is all in these seductive sounds which are somewhere in a gentle collision of art music, Seventies electro-New Age soundscapes (Jean-Michel Jarre's Oxygene, Tangerine Dream etc) and ethereal pop with songs and discussions of love from a feminist/female perspective.
These are like dream narratives (those contributors often add spoken word passages), the title track opens like spoken-word Anderson but the voices of Englert and Wang weave together in overlapped almost therapy-session confessions, and the delightfully hypnotic Ashes to Ashes is an enveloping piece of deft electro-ambience turning gently into spacious, atmospheric pop.
But make no mistake, these songs deal with big issues at times (the opener Lions invites the listener to consider the natural world and wonder where God is).
So here the seductive aural settings – there is a languidly enticing jazzy feel to Thumbsucker – invite you in . . . and once inside their trance-like presence Hval asks the questions.
Quite extraordinary.
You can immerse yourself in The Practice of Love here on Spotify.