Graham Reid | | <1 min read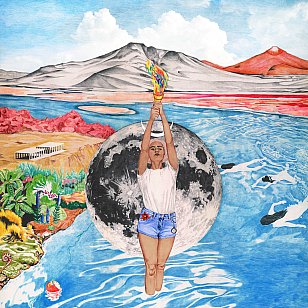 We didn't so much miss Irish singer-songwriter Wallis Bird as get to her too early, back in March when she was touring in New Zealand and she answered some questions for us.
At that time however this album – her sixth studio outing – was six months off.
Bird is a serious artist who don't flinch from the big issues confronting these troubling times: the opener As the Rover Flows addresses the flight of migrant peoples who have been literally washing up on foreign shores far from their homeland, and it's no surprise that one later pieces here – a folksy and slippery ballad with aggressive drums, a soaring chorus and some serious self-assessment – is entitled Brutal Honesty.
There is love here (Woman Oh Woman is a classy, clever and melodramatically arranged open letter) and plenty of sensitive feminist politics (in the broadest sense as well as abortion, right to choose etc), but equally Salve! sounds more influenced by Prince's lovesexyfunk style and she courageously ignores easily identifiable genres and idioms so that she could be found alongside contemporary r'n'b singers, raw soul sisters, late Seventies Joni Mitchell and even in a church (on Time It is Not Waiting).
As she sings, "I'm a ribbon of song . . ."
Assured, open-hearted, intelligent, musically shapeshifting . . . and you will be in no doubt when you see a song title like I Know What I'm Offering.
And That's What Life if For is upbeat, joyous crowd-pleasing pop with a point.
You can hear Wallis Bird's Woman here on Spotify