Graham Reid | | 1 min read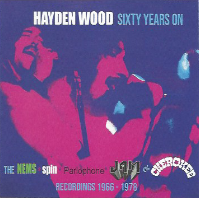 Despite the considerable collective musical knowledge at the table not one of us could place Hayden Wood, the subject of this new archive compilation by Grant Gillanders.
Fortunately, as he always does on his Frenzy releases, Gillanders provides considerable information in the sleeve of this 26-song collection subtitled "the NEMS, Spin, Parlophone, Jam and Cherokee Recordings 1966 – 1978".
So Wood was a label-hopper if nothing else, and he wasn't even Hayden Wood.
He was born Anthony Jones in Lower Hutt, took the stage name Tony Summers in Sydney where he recorded a single, in London he hooked up with John Rowles and recorded there, then changed his name again to Hayden Wood and got a whopping advance to record in Abbey Road for sessions which would include a full orchestra and backing singers.
He recorded a couple of songs by the jobbing writers Elton John and Bernie Taupin (Ballad of a Well Known Gun, Sixty Years On) but the album was held up and so Wood took back the masters and they were sent to New Zealand where the album was released as Out of the Wood in the mid Seventies.
And so his story goes: writing for Status Quo when they were a psychedelic band, back to NZ to hit the pub circuit, on mainstream TV with Steve Gilpin, Bunny Walters, Mark Williams, Beaver and others; working in promotions, forming his own label Cherokee in '74, back to Australia, back to New Zealand . . .
It's quite a life story and he certainly had a big ballad voice which sits alongside the massive orchestration on the UK tracks and he does a nice job on the Elton-Bernie songs, there are some lovely standouts (the sentimental Cannons Plain), some confident covers (Neil Diamond's The Grass Won't Pay No Mind), the brutal song of betrayal Spirit of '68, the jaded Where Are We All Going To, and a voice which comes at us from a time when Paul and Barry Ryan, John Rowles, Tom Jones and PJ Proby were throwing ballads – sometimes about romantic death, like Jones' Green Green Grass of Home, as with the prisoner song The Last One to Know here – up the charts.
Most interest here turns to The United States of Europe 79, a big and punchy pop-rock ballad celebrating a trip into the Continent which has them dancing on the Berlin Wall and home in time to see the Concorde fly.
Ah, nostalgia.