Graham Reid | | 1 min read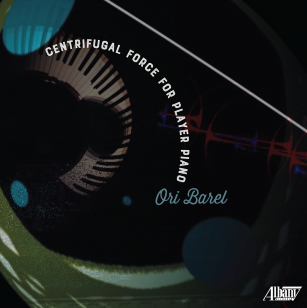 We expect by now few people come to Elsewhere expecting the always-familiar, so this album by American composer Ori Barel for player piano is one for those prepared for something elsewhere.
Inspired by robotic art, the speed of technology and the musical reach from concert hall to free jazz, Barel has created "programmes" for the player piano using algorithms which created musical miniatures of varying speeds and lengths which are then compiled into what sound like performance pieces.
But of course, as you may hear, some are so rapid that no human hands could realise them.
The player piano can however.
So these four pieces – all around 10 minutes long – exist in that boundary between the concert hall and the sound lab, and music which is acoustic but influenced by electronics.
There is enormous drama here when the pieces become dense or furiously fast, but the composer's art is to also allow for space, notably here in the second part where the vigorous workouts for player piano are akin to Cecil Taylor on speed and there are short breathing spaces between.
Part 3 is more measured and less breathless (mostly) and sounds more like a witty human actually playing the piano.
It's likely this will most appeal to free jazz aficionados with plenty of familiar miles behind them, or those who can appreciate the mathematical nature of these muscular pieces.
If that sounds like you then you can hear Centrifugal Force for Player Piano at Spotify here