Graham Reid | | <1 min read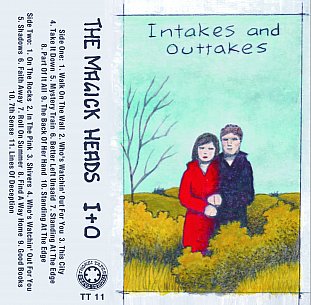 Robert Scott (Bats, Clean and other projects) teamed up with vocalist Jane Sinnott as the core of Magick Heads in the late Nineties, with various members of 3Ds at one point.
Their recording career on Flying Nun was short (there were limited releases on other labels) but their increasingly folksy sounded was ideally suited to Sinnott's voice and Scott's acoustic-framed songs, as witnessed by this cassette/download release through Thokei Tapes' on-going series of tapes devoted to New Zealand artists of the period.
Here are 10 tracks recorded live-to-air for Radio One with Sinnott, Scott, Richard and Jim Strang (bass and drums), two live duo songs recorded at Sammy's bar, eight home demos, and a few more duo recordings live-to-air for Auckland's bFM student radio. An impressive 21 tracks in all.
Sinnott could also conjure up a folkadelic/Grace Slick kind of drama (their excellent original Mystery Train, On the Rocks), there's an enjoyably ramshackle quality to some tracks (the live Better Left Unsaid) and certainly the spirit of the Bats is evident in places.
But when Sinnott took her strong voice centre-frame Magick Heads stood on their own terms. And Back of Her Hand (their single) is a terrific song, even in the dodgy sound of the live version at Sammy's.
Another valuable addition to Thokei's catalogue.
You can hear and buy this album at Thokei Tapes' bandcamp page here.