Graham Reid | | <1 min read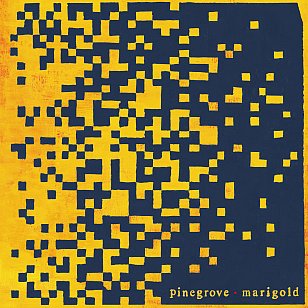 New to Elsewhere, this New Jersey outfit here deliver a strangely enticing fourth album of downbeat material which sometimes errs towards worn-down narrative pop-poetry delivered over elemental, almost alt.country settings (Dotted Line, the arresting Alarmist) or gently urgent power-pop (Moment about an unexpected incident on the road).
Spiral is a 75 second, wry injunction and observation of what linguists call phatic communion (small talk etc): "Drink water, good posture, good lighting, good evening, good morning . . . feeling a part of the process of living"
Singer-songwriter Evan Stephens Hall has an interesting voice (in places you'd swear it was a woman singing) and a real way with an astute, detailed lyric which come off as lived and/or deeply felt (No Drugs, the intimate Hairpin).
With subtle colour from pedal steel, dobro, keyboards and banjo, Marigold is an album which steps lightly between alt.country (the downer mood of Endless), indie.rock (Phase) and mainstream acoustic-framed pop (the slow and measured Alcove).
The six minute title track at the end which is a slow, ambient instrumental hints at other musical possibilities from Pinegrove also. It's a delicate departure on an album which has bristled with information and ideas.
There's maybe a little self-pity here but the settings get you past most of that, and over repeat plays these songs pull you into Pinegrove's enclosed little world.
You can hear this album at Spotify here.