Graham Reid | | 1 min read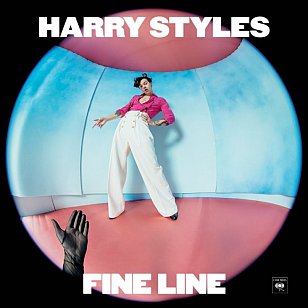 When Harry Styles – formerly of One Direction – released his self-titled debut album in 2017 we here at Elsewhere were not just surprised by it but actually very impressed.
While noting that artists of his generation – we mentioned Lorde, Taylor Swift (once she and Harry were a couple) and Justin Bieber in the context – don't make music for people of my advanced years we concluded: "In many ways this is an album of the old style in that it is a coherent collection of songs which are discreet but also slightly disparate to showcase a breadth of the artist's vision.
"Somewhat alarmingly, especially for him at 23, Harry Styles seems to be making music for me".
It was a clever and crafted, chart-bothering pop record and Styles proved he possessed considerable vocal and emotional range.
With his new Fine Line and the customary Team Harry producers and co-writers, he stretches himself even more assuredly, from the MOR pop-rock of Golden (think America with George Harrison on slide) to the adult narrative and searing guitars of the downbeat, grandeur of the six-minute She.
He delivers summershine pop (the vacuous but enjoyable Sunflower Vol 6 co-written with go-to hit writer/producer Greg Kurstin which sounds like a mid 80s McCartney album track), radio-pop (Watermelon Sugar) and the make-weight feel-good virtue-signalling Treat People With Kindness (co-written with Ilsey Juber, daughter of McCartney's Wings guitarist Lawrence).
Yes, he addresses the gallery of female fans (the tediously obvious Adore You, the aching apology ballad Falling), drops clues for the faithful to decode (a dig at Swift on the acoustic folk-pop of Cherry?) and – on the self-aware To Be So Lonely and CS&Nash-framed Canyon Moon – steps even further into a more adult milieu.
Some smart, sexualised pop here.
That said, despite its confident and accomplished diversity, at times Fine Line remains safe rather than the re-invention he seems capable of.
This is a career worth following.
You can here this album at Spotify here.