Graham Reid | | 1 min read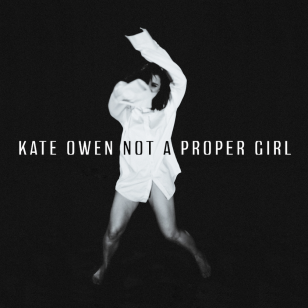 The interesting boxes are all ticked here: singer-songwriter Kate Owen is from Lyttelton (the Liverpool/Austin of Aotearoa?), recorded this with Ben Edwards there, had it mastered by Chris Chetland in Auckland, it is crowd-funded by believers . . .
All it needs then is for Owen to deliver . . . and on an album which has prickly guitars alongside widescreen ballads and soundscape songs she and her fellow musicians do that with material and varying (but coherent) approaches which defy easy categorising.
The opener The Void is tense, aggressive and moody rock which is like Siouxsie-meets-dark country however Trigger is a languid ballad which sits with an orchestration of guitars and gentle electronics.
There's a cinematic quality about these two, as in they sound made for movies which respectively take place in a Goth bar outside of Phoenix where there's rolling thunder in the distance or an ill-lit motel room.
Neither would prepare you for the synth-ripples on the sensual Lover which sits between them.
Three very different faces of the artist in the first three songs.
That's impressive.
Elsewhere there is a stalking menace to the seductive love'n'death ballad Lullaby, the shimmering guitar setting behind her assured, expansive vocal on Red Rose, the cabaret-country noir of Ask the Stars and the quite remarkable Clean at the end.
Although this lyrically poetic collection embraces intimate and up-close alt.folk (Hungry Ghost), the haunting Heathen's Prayer with a spooky sound design as the backdrop, and dense and driving pop-rock on Dangerous Dreams, Not a Proper Girl feels cohesive and coherent
It's like an album of the old style where the artist stretches without obvious showcasing.
By all accounts Kate Owen has been performing live for over a decade and this is her debut.
She deserves to be heard and seen. And fortunately . . .
This album is released on March 13 but you can hear Kate Owen at Spotify here and see her here . . .
KATE OWEN: NOT A PROPER GIRL DATES
March 14: Bark, Dunedin
March 21: Freida Margolis, Auckland
April 3: Lyttelton Coffee Company, Christchurch
April 18: The Third Eye, Wellington