Graham Reid | | 1 min read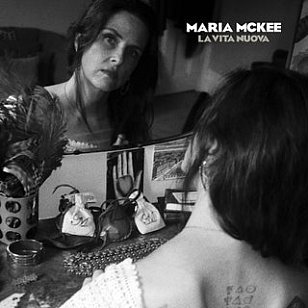 Sometimes it's good to acknowledge you just aren't up to it, that an art is so demanding as to be beyond your comprehension or interest.
So let me admit defeat in the face of this dramatic, literary, cathartic, almost operatic 65 minutes by Maria McKee, who has often presented a challenge.
But nothing like this.
Let's not mention her time in the popular country-punk band Lone Justice because that was all over more than 35 years ago, nor even her major solo work Life is Sweet in '96 because none of that is relevant here.
Taking its title from Dante and addressing her new life as a London-living Anglophile who has come out as a "pansexual, polyamorous, gender fluid dyke", La Vita Nuova is a lyrically dense, orchestrated letter to her self, love and a new consciousness.
Suffused in British poetry and reference points which roam freely from Kate Bush, Keats, Van Morrison, William Blake, Scott Walker (before his more demanding experiments in the last decade of his life) and British folk, this is an album which starts as it means to go on with a string-soaked farewell (to a friend, her former self, her husband?) which is heavy on drama and narrative poetry.
Thereafter there's barely a space which isn't filled by words or music, until the closing overs (the gentle Just Want to Know If You're Alright, ) and so here is a collection which requires total immersion, the libretto – a "lyric sheet" doesn't adequately describe it – and plenty of time.
This album may well be hailed alongside Bowie's blackstar, Walker and Bush's most demanding work, and Rufus Wainwright's Prima Donna.
Perhaps a classic album in decades to come, clearly a magisterial work by 55-year old McKee and one she had to make.
It is extravagant, earnest, ferociously intelligent and much more.
But an album this writer found easier to admire than enjoy.
Couple of lovely songs in the final third however, maybe that is the best place to start (However Worn perhaps) if you are curious.
I look forward to having it deconstructed for me on National Radio or the Concert programme.
Try it on at Spotify here