Graham Reid | | 1 min read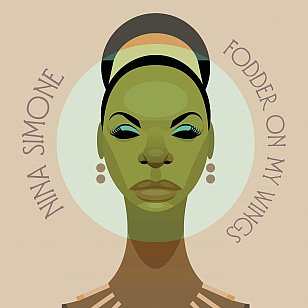 At the midpoint of this obscure, mostly out-of-print and now reissued album – with bonus tracks – which was recorded in '82, the much-troubled Nina Simone delivers a brutal rewrite of Gilbert O'Sullivan's Alone Again, Naturally about the death of the father she hated.
"I realised I despise this man that I called father" and "just when I need him the most, he was already a ghost, and all my life there were promises and they always had been broken." and "now he's fading away and I'm so glad to say, he's dying at last, naturally" are the least of it.
The lengthy coda is a descent into darkness and then existential doubt.
At the time Simone had been comfortably itinerant but had relocated to Paris, her emotional issues and inner rage had come to the fore, and she just let the pain sear out of her in often bitter and personal lyrics, as on the brightly lit and horn-driven Latin sound of I Was Just a Stupid Dog to Them ("with a funny sounding name") and her attack on the Swiss in the second half of her quasi-classical, death/life meditation, Le peuple en Suisse.
Musically this is quite remarkable in that it slews from boisterous Caribbean sounds (her vocally raw and assertive I Sing Just to Know I'm Alive), the throwaway Liberian Calypso (her experiences in that country) and tribal Afro-funk (the opening of the autobiographical Fodder in Her Wings which then morphs into what sounds like classical harpsichord then fretless electric bass).
Elsewhere are her default positions of classical music, jazz and soul, a reworking of the hymn There is No Balm in Gilead and a stacked up series of chanted vocal parts on Vous etes seuls, mais je desire etre avec vous.
Stop, one of the bonus tracks like Alone Again, Naturally, is an off-kilter poke at Stephen Sondheim's Send in the Clowns.
It's a weird album but she held it in great affection, no doubt because it came out of her unfiltered.
Very, very strange . . . and a 30 second coda which mentions the death of Bob Marley.
Make sure you hear Alone Again, Naturally however. It is venomous.
You can hear this album on Spotify here.