Graham Reid | | 1 min read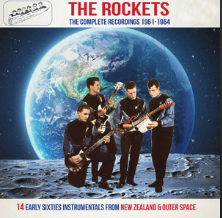 In the early Sixties before the arrival of the Beatles, guitar instrumental bands were a commonplace.
Among the best known would be the Ventures, Shadows, Surfaris, Tornados . . .
Be they surf rock or aiming higher (like into the cosmos during the Space Race era), these bands of largely interchangeable members around the lead player were certainly popular.
New Zealand had more than its share of guitar players (Peter Posa, Gray Bartlett and others) and the Rockets out of Napier, who get their own extensive entry at audioculture.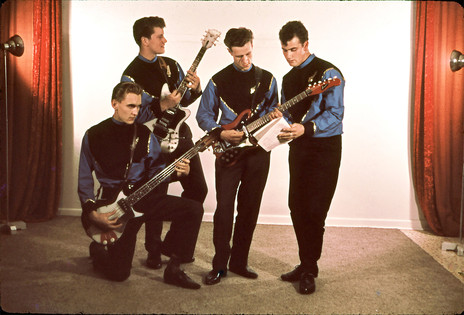 They looked very cool and spacey in their uniforms made by Sylvia Richardson (wife of local DJ and MC Keith) and over the few years of their existence there were some line-up changes.
They also released four singles but here, through the work of Grant Gillanders and David Lindsay, their complete studio recordings – 14 tracks – are gathered together in an impressive collection with a tasty cover photo (although this only available digitally through iTunes, Spotify, Apple Music, Google Play and You Tube).
Certainly the influence of the Shadows is evident in their repertoire and style (they were originally called that name) but they were a polished guitar instrumental band of their era and reached from standards (Besame Mucho, Yellow Bird, The Breeze and I with a saxophonist which is not their strongest moment) and Western-styled ballads (Johnny Guitar, Gold in California which has a mariachi horns) to Nashville Boogie.
Ironically, given their appearance and name, there's nothing here which aims for the cosmos as you might expect.
You can hear this album at Spotify here.