Graham Reid | | 1 min read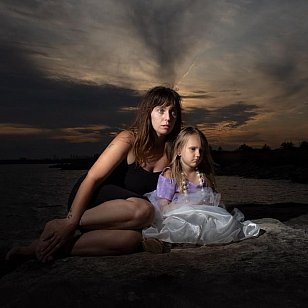 From the ambiguous album title – is it a play on opposites, or is the light heavy? – and through these teasingly accomplished songs which reference a swathe of pop history aural references (old school soul,
Michael Jackson
, r'n'b, disco), this seventh outing for US Girls (Juno-nominated Meghan Remy from Toronto) covers a lot of musical terrain.
But it also interpolates brief spoken word collages in which people reminisce about their childhood, what they would have advise their teenage self and so on.
Many of these songs are about reflection and consideration (the aching IOU), she revisits three previously recorded songs to re-engage with them (Red Ford Radio is dark girl group-meets-cold fury) and delivers a quivering ballad on Woodstock 99 which addresses that failed resurrection of hippie optimism and that era (with Jimmy Webb's hook from MacArthur Park as the pivot).
Some of that may seem like she's looking in the rearview mirror for musical settings but Remy is using them as screws to hold together her thoughts on the discomforts of living in the dangerous and dysfunctional 21stcentury (the dramatic Quiver to the Bomb, Born to Lose with its nod to early Patti Smith).
From the seductive opener 4 American Dollars – which pulls you in with its Seventies soul familiarity and holds you there for almost six danceable minutes in a swipe at the money-go-round and the economics of profit before people – through the NYC/Spanish-Spector spare poetry of Denise, Don't Wait (not being an available enabler anymore) to that light industrial clank of the claustrophobic Red Ford Radio, this is a journey through the present where the past can be embraced . . . or needs to be put in its place.
.
You can hear Heavy Light at Spotify here but given how beautiful the cover is you'd probably want the vinyl.