Graham Reid | | 1 min read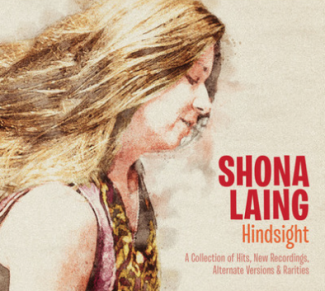 This timing of this compilation of "hits, new recordings, alternate versions and rarities" could not be better.
A couple of months ago at the Taite Prize, Shona Laing's '87 album South was accorded the award for Independent Music NZ Classic Record, it's two most memorable songs (Glad I'm Not a Kennedy and the tight single edit of the chilling/thrilling Soviet Snow) opening this 21-song compilation.
Also, just last week the album's compiler Grant Gillanders was profiled at audioculture by Simon Grigg for his on-going commitment to re-presenting New Zealand music on CD and digital outlets.
Much of Laing's deep and wide catalogue went past many so here is a collection which ticks the hits, goes back to strong early material (her breakthrough 1905, the inspirational You Are The One, Show Your Love), essential songs (Mercy of Love among them) and four unreleased songs from '75 recorded in Britain when she was in Manfred Mann's Earthband (with Suzanne Lynch on backing vocals).
But notably also are two excellent recent re-recordings: a hypnotic treatment of Mahatma's Army ("I am a soldier of peace") with Liam Ryan on keyboards, guitarist Gary Verberne and drummer Larry Killip (Sarah Spicer on backing vocals) and the same team on the gentle Vagrant Heart.
And right at the end there's a handclap version of the locally popular We'll Sing in the Sunshine with Tom Sharplin and the Seventies electrofunk of I Who Have Nothing (yes, an overhaul of the song Shirley Bassey belted out) with Manfred Mann's Earthband.
From 1905 to that unexpected cover in just a few years was quite some journey, but Laing's story was only beginning in the mid Seventies.
Yes, there are omissions which some folk might have wanted to hear again (Highway Warriors, Drive Baby Drive, Thief to Silver) but this wasn't that kind of collection.
Gillanders and Laing have cherry-picked key songs to hook you in but then pushed into lesserly explored areas of her catalogue and delivered new and previously unreleased material.
That makes for a collection which is quietly revelatory but also in places familiar.
Smart.