Graham Reid | | 1 min read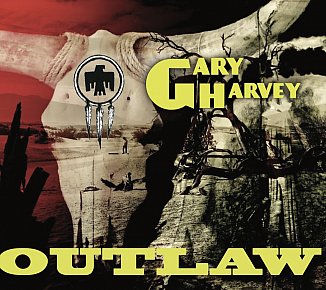 Guitar slinger Gary Harvey has been around since giants walked the earth, playing blues-rock in clubs and bars from North Auckland to North America, serving up blistering solos or ballads.
Harvey has been doing this for so long he's doubtless taken for granted by many and certainly some might finds his genuine infatuation with Native Americans and the Old West (and new west of the Austin outlaws) a bit unusual.
But others have been smitten by worse and there's at least a consistency to Harvey's vision which is both mythic (the title track here) and grounded (the fiddle-enhanced domesticity and life disappointments of The Traveler).
He might sometimes locate himself on the axis of cowboy/outlaw but he also sings of the denizens of Coroglen (presumably the tavern on the Coromandel).
He can drill down into the serious (Sea of Pain) but then he drops in "listen to the sound of the Monkee man singing Lucy and Ramona and Sunset Sam" on Oasis in the Badlands, a song which might have come from the pen of James McMurtry.
At times Harvey's vocals let him down and there's certainly a lot of familiar, genre blues-rock - with blistering guitar work -- here.
But if anyone's entitled to sing of being an outsider/outlaw it's Gary Harvey whose life is the bit between strapping on his guitar like a gun-belt and heading out on the road again.
And again.
.
You can hear Outlaw and follow Gary Harvey on Spotify here. Find him on bandcamp here
For more on Gary Harvey at Elsewhere start here.