Graham Reid | | 1 min read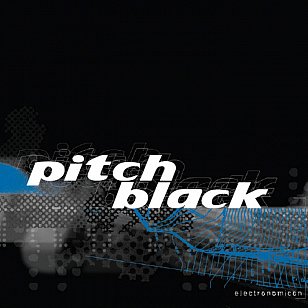 From time to time Elsewhere will single out a recent release we recommend on vinyl, like this one . . .
.
Has it really been 20 years since this seminal, electronica album by Paddy Free and Mike Hodgson?
Their debut Futureproof in '98 established Pitch Black as a recording act as much as a massive live attraction – it sold 4000 copies and won best electronica album at the b.net awards.
But it was Electronomicon which announced them as capable of density, complexity and deep grooves which referred to down-tempo soundscapes, drum'n'bass, dub (although, "We don't describe ourselves as dub because we don't come from reggae," Hodgson told Elsewhere at the time) and more.
What Pitch Black managed to bridge with this album – and their many subsequent ones – was the emotional and visceral divide between what you might want to hear in a club or an outdoor festival as their triggered light shows blazed around you, and what also works at home.
Their moody low end and a sense of up-close presence is what sold them as couch listening or something for a Sunday afternoon in summer.
They conceived their music like songs which shifted between emotions and sonic shapes rather than just locking into Pavlovian, crowd-pleasing dance tropes.
Pitch Black music has always rewarded close attention and now Electronomicon reappears as a beautiful, remastered double vinyl in a gatefold sleeve.
It moves from the slightly disturbing atmosphere of the opener Reptile Room – a kind of oppressive sci-fi sound leavened by the pulsating bass beneath the crosscut samples and rolling boil of synths – which is followed by the equally space-launch thrust and throb of the two-part interstellar Electric Earth.
Then we are taken into the side-long Data Diviner which, as with some of the best Pitch Black material, deliberately takes time to establish itself before moving through various moods, cosmic blips and their aural signature of discreet melodies.
Electronomicon also spoke of the collective spirit within their community of peers: drummer Nick Gaffaney of Cairo Knife Fight appears on five of the seven tracks, guitarist Andrew Penman of Salmonella Dub adding textures on the Urbanoia, and vocalist Caitlin Smith getting breathy on Data Diviner with its electro-crackle energy.
There is musical and emotional breadth across these four sides and the album closes with the expansive, side-long and more assertive Unadrumma.
Electronomicon is a double vinyl to cherish and play repeatedly.
Have headphones at the ready too.
.
For other Recommended Record vinyl reviews see here.
.
For more on Pitch Black at Elsewhere, including album reviews and interviews go here. Pitch Black albums as CDs or digital downloads can be bought at their bandcamp page here.