Graham Reid | | 2 min read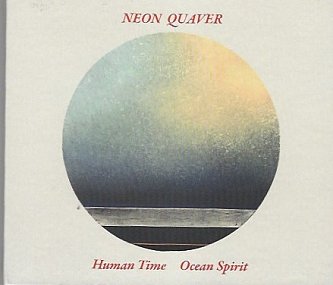 In the Eighties, the Cotton Cub in Auckland run by the late Pat Shaw – usually at the now long-gone Mandalay in Newmarket – was a place for unexpected jazz concerts. Shaw would bring through old bluesmen like Sammy Price and Alton Purnell, the jazz-fusion Sanguma from Papua New Guinea, Ellis Marsalis from New Orleans (father to Wynton and Branford) and many more.
Lots of local musicians played too.
The audiencee was older, so the night MC Merv Thomas quipped that "jazz hates Johnny too" went right past most people.
Among the groups which played there were the innovative Neon Quaver who one night did a piece by British prog-rockers Caravan. I think that went past most people too.
Neon Quaver with a core of Richard Adams (violin), David Lines (keyboards) and Richard Ghent (flute, vocals) -- and a drum roster like Spinal Tap -- were immensely popular and played jazz festivals, Rick's Cafe American in Victoria Park Market and the Gluepot. Among many other places.
Over time their music changed and guitarist Nigel Gavin's arrival brought in other sounds and styles beyond Hot Club de Paris, standards and their revisions of pop material with their Quaver flavour.
Inevitably they went their own ways: into academia and teaching (Lines, Ghent); guitar ensembles (Gavin with Gitbox, Jews Brothers, solo work); and the Nairobi Trio (Adams who also pursued a very successful career as a painter).
Paths continued to cross but here, after a lengthy hiatus, is what I take to be their debut album.
And quite a sophisticated package it is in a hardback booklet, cover art by Adams, a DVD (three songs recorded live and brief interviews) alongside the CD, and useful liner notes.
They call it their CD-DVD Boutique Album and describe it as "contemporary acoustic jazz".
As with their earlier incarnations, there is often a swinging sophistication at work, however don't let the seductive, dreamy opening passages of Gavin's eight minute-plus Anna Crusis which starts this collection fool you, by the mid point it is a snapping funk piece which gets more slippery as it goes courtesy of Ghent's flute.
And later Lines' Human Time seems mostly like a chic Seventies TV theme . . . but in its final third the melodic repetition gets progressively more taut and knotty until by the end you're glad to escape the Herrmann-like claustrophobia.
The tension is released with Gavin's romantically Noteworthy Praise (a mood of melancholy under Mediterranean skies), but there's a brisk pop-rock approach to his bright, almost mathematical, Shelf Life which also allows Lines to enjoyably stretch out.
The only non-original here is their treatment of Rickie Lee Jones' On Saturday Afternoon in '63 with a scorched-throat vocal by Ghent which some may find too raw. It is, but he adds a greater sense of emotional reflection and regret to her lyric.
In one of the interview segments on the DVD they note there is no bass and drums in the line-up which allows their instruments to have a natural rhythm and for more subtlety because the players aren't being drowned out. And that they can move into different tempos and tonalities.
That seems a fair assessment of what Neon Quaver offer here.
Shifty rhythms and tempos, a freedom of spirit as much as melody, and music which mostly has a humid breeze blowing through it.
A cursory listen might dismiss it as a bit MOR but that would be unfair.
If nothing else -- and, as we often say, there is plenty of "else" -- Human Time Ocean Spirit sounds like the summer to come.
Neon Quaver launch this album at the Pt Chev RSA, Auckland on Tuesday October 20