Graham Reid | | 2 min read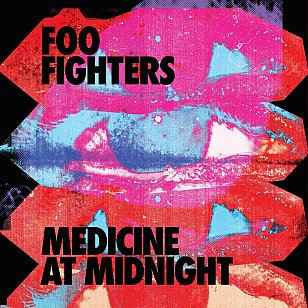 Dave Grohl became such a part of rock's rich tapestry these past two decades you'd be forgiven for thinking he's always been something of a senior statesman.
At 52, Grohl – Nirvana's drummer who emerged as the frontman/songwriter for his all-conquering Foo Fighters – is the well-adjusted rock star who has recorded with Paul McCartney, Queens of the Stone Age, Bruce Springsteen, Lemmy and Alice Cooper.
It's a long way from outsider grunge anxieties to playing for the Biden inauguration event as he did on prime time last month, giving a shout-out to teachers and his mum.
For the occasion Foo Fighters delivered an aching version of the apposite Times Like These ("you learn to live again . . . I'm a new day rising") from their 2002 One By One album which exploded into their characteristic style for its final minute.
For some Foo Fighters have been the acceptable face of stadium rock. "The hard rock band dads could like," a friend recently observed dryly.
With Foo Fighters' post-grunge, hard rock signature sound their established template, Grohl and band could cruise onto their 10thstudio album Medicine at Midnight and offer more of the satisfyingly noisy same.
But three very different advance singles suggested Grohl was broadening his palette and, given his audience had matured along with him, flexing the freedom he'd created for himself.
The pared-back dynamic of the beat-driven Shame Shame's closest cousin might be David Bowie's 83 album Let's Dance (with the title words echoing Bowie's even earlier single Fame).
Waiting on a War is heroic, Springsteen-like folk-rock working off an acoustic framework before reaching a raging, urgent climax. It was prompted by his daughter asking if there was going to be a war and Grohl remembering his similar fears as a child.
The desperate and powerfully declamatory No Son of Mine, with a stuttering Black Sabbath-like riff, is similarly serious: "No son of mine will ever do the work of villains, the will of fools . . . ."
Three musically different singles which signaled a departure from expectation on Medicine at Midnight, and the album opens with the 70s-sounding Making a Fire which could have fitted on the Dazed and Confused soundtrack alongside Aerosmith and Foghat.
Later the interesting Cloudspotter works from choppy guitar figures and beats before becoming full-throated rock, and the title track is again Bowie-like dance-floor funk'n'synth.
Chasing Birds ("to get high, I'm never coming down") is a delightfully dreamy, low-key ballad which has a McCartney-like melody (and Paul's lyrical laziness; "the road to Hell is paved with good intentions").
Love Dies Young is power-pop dialed up to Foo Fighters' requisite threshold.
In the past 25 years Dave Grohl has survived, thrived and with those lead-off singles teased that Medicine at Midnightmight defy audience presumption. And in places it does.
It's a solid, mature pop-rock album with just enough steps into retro-rock and dance to be diverting, however its default position is Foo-familiar.
The Foo Fighters' album for home listening in a time when the stadium sensurround experience isn't an option?
Accessible and enjoyable though it is, Medicine at Midnight may end up not satisfying longtime fans and dads, or finding the new audience Grohl might have hoped for.
.
Foo Fighters' Medicine at Midnight is available on Spotify here