Graham Reid | | 1 min read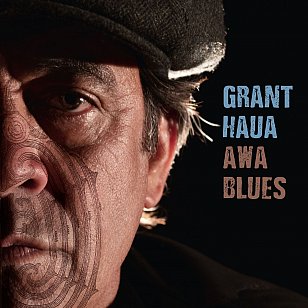 When singer/songwriter and guitarist Grant Haua
was interviewed recently by Marty Duda for his 13thFloor website
, he committed a great heresy.
Haua laughed about how much he enjoyed recording his new album Awa Blues, "it wasn't like hard work".
What he should have said, to be taken as A Serious Artist, was that it was real struggle, there were a lot of anxious moments of uncertainty, that it was a laborious process . . .
Haua – who was a longtime half of the blues stompin', stage rockin' Swamp Thing with drummer Mike Barker – is a rare one: he's honest and that comes through in interviews.
And on Awa Blues which opens with the angular dark, acoustic-driven funk of Got Something but he follows that with a lovely up-tempo tribute to his tipuna, matua and turangawaewae on This is The Place (which opens with a karanga and has a chorus in te reo).
The more breezy Mamma's Boy takes an alternative viewpoint of maternalism, inspired by Kathy Bates in The Waterboy: "It's hard to do anything when you're tied to your mamma's apron strings . . . Mumma's boy I hear them yelling at me".
There's a Tough Love Mumma (a partner with moxy) here also.
Haua takes on the Serious Artist issues too: the raw Addiction is addressed a loved one under the grip; he offers the hand of hope on Better Day (with piano by producer Tim Julian); Might Have Been is a powerful song of regret after a relationship has gone south . . .
These 12 crafted, diverse and discreet songs come with Haua's powerful, soul-filled voice and musical settings in which he layers acoustic and electric guitars, cajon and harmonica with a small support cast on bass, piano, clavinet . . .
It makes for a very impressive and often quite moving collection.
Signed to the French Dixie Frog label for distribution (the album comes with lyrics in English, te reo and French) has meant serious overseas interest – apparently advance sales of more than 3000 in the EU for this modest son of Tauranga, and number one the blues charts in France. A time has also been spent on impressive videos.
Haua is a seasoned artist who here -- in a beautifully packaged, gatefold CD -- touches all kinds of points in the blues and folk from Taj Mahal and JJ Cale to dialed-down Stevie Ray and even an adventurous touch of acoustic James Blood Ulmer.
Seems like this is Grant Haua's time.
And deservedly so.
.
You can hear this album on Spotify here. Get the CD though.
.