Graham Reid | | 2 min read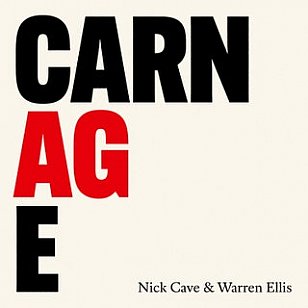 Nick Cave may have alienated some with trenchant comments about the call for a cultural boycott of Israel in solidarity with the Palestinian people.
Among other things, he called it an attempt "to bully, shame and silence musicians", but also asserted that although he and the Bad Seeds played in Tel Aviv in 2017 that shouldn't be read as tacit support for Israel's policies.
A few calls to boycott Cave himself dissipated, particularly in the face of the muted atmosphere and orchestration of the grief-soaked Cave/Seeds' Ghosteen album (2019) and his solo, globally-streamed live performance (and album) Idiot Prayer during last year's lockdown.
Cave playing to an empty Alexandra Theatre suited the isolation atmosphere of that time.
Whatever anyone thinks of Cave's politics, he's an artist at the peak of his powers, confirmed again by his new, hauntingly uneasy album Carnage with Bad Seed Warren Ellis.
As always, Cave's lyrics juxtapose the material and spiritual but here – given the state of the world – the mood is often dark and desperate, the unnerving opener Hand of God setting a tone with gloomy portents.
Cave channels a white-knuckle desperation on Old Time across the unsettling sound of incessant percussion, swooping and searing strings and disturbing electronics: "In a cold time everyone dreams of dying, wherever you are darling, I'm not that far behind . . . I'm not coming back this time ".
The spoken word White Elephant– "I'll shoot you all for free if you so much as look at me" – is a chilling if over-reaching ride into the menacing mind of an alienated "white hunter", it's excesses not entirely ameliorated by the long uplifting singalong, gospel-like coda with its assurance "there's a kingdom in the sky".
Yet Cave's melodic beauty and the sound designs created by multi-instrumentalist Ellis also locate Carnage in the continuum from 2013's excellent Push the Sky Away.
The title track here ("I always seem to be saying goodbye and rolling through the mountains like a train") boasts an effortless melodic signature when he hits "It's only love driving through the rain, rolling down the mountain like a train".
As with so many Cave songs (Push the Sky Away, Into My Arms) you can anticipate a live audience singing these hushed lines with a holy reverence.
The weary Albuquerque taps into the sensibilities of lockdown ("We won't get to anywhere anytime this year . . .") across a spare piano part and gentle strings. Lavender Fields is almost a pastoral reverie amidst the isolation and desperation of the times which finds it musical ebb and flow echoed discreetly in Shattered Ground. And the album's denouement has the protagonist observing the world on the hymnal and hopeful Balcony Man: "This morning is amazing and so are you".
In places with its images of loneliness and emptiness freighted with melancholy, Carnage can be as demanding as any in Cave's extensive catalogue.
But he again effects that rare balance of darkness with light and hard imagery with gentle reassurance in way that sounds both personal and universal, reflecting on this strange time which birthed it.
We may not side with Nick Cave's politics, but we can probably agree on that.
Nick Cave and Warren Ellis' Carnage is on Spotify here.
.
There is much more about Nick Cave, Bad Seeds etc at Elsewhere starting here.