Graham Reid | | <1 min read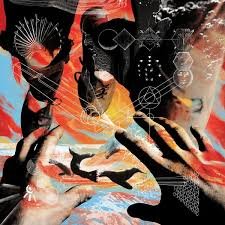 Neither of these names may be widely familiar but Danalogue – on synths and keyboards – came to Elsewhere's attention as part of the exceptional
Comet is Coming
jazz (and elsewhere) ensemble out of London, and he was on
Sarathy Kowar's terrific More Arriving
album of 2019.
Saxophonist/multi-instrumentalist DePlume (Gus Fairburn) we do not know but he seems to move in similar East London circles.
Their nine track debut works across sometimes strident electrobeats and psychedelic synths, dub-conscious production and film noir futuristic hip-hop (Broken Tooth Skyline with rapper Joshua Idehen in appropriately apocalyptic mood).
Not the easiest of albums (dystopian electronica seems an appropriate description) but when the gloom is dialed back – as on the blip-pop soundscape of Sundance, the pared back menace of All Who Wonder Are Not Lost and the swirling Guest at the end – there's something quite engrossing going on here.
.
You can hear this album on Spotify here