Graham Reid | | 1 min read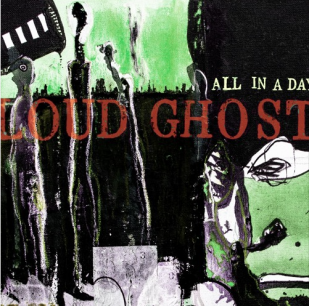 Loud Ghost is the rock'n'roll outlet for Auckland multi-disciplined Darryn Harkness (New Telepathics, Serafin, From Scratch, poetry collections, artwork) who is now getting close to about 20 albums under his various guises.
The previous self-titled Loud Ghost album was more than five years ago but in the interim (as you can tell) he has been busy on other projects, notably the expanded and expansive From Scratch.
But although he has a free jazz/Afrobeat persona here he again sensibly narrows the focus to nine concise, mostly high-energy rock with himself on production, writing, guitar and vocals, drummer Earl Robertson (Chills, Peter Stuyvesanttt Hitlist, Bic Runga etc), guitarist Joe Dekkers-Reihana and bassist Simon Nicholls.
Setting aside the rock and post-grunge, there is also the death ballad Hang Me Today ("for a man I never knew") sung in a pure Kiwi drawl and So Close is furious power-pop.
The title-track opener jangles the album to life as a tasty piece of drone-pop straight out of a garage in psychedelic '65 (a compliment), She Brings the Plague sounds beamed in from 15 years later as a fist-tight piece of post-punk pop and The Dead Have Friends ("and one of them is you") is brooding piece ending in 20 blazing seconds of pure Nirvana-noise.
There are barbed songs here too, such as the memorable Teaching Gorillas to Smoke which skewers scientists in labs dissecting and testing on animal ("here I am teaching gorillas to smoke").
If that debut a few years ago was Harkness starting to define a more clear course then All in a Day suggests he's getting closer to his destination.
.
Loud Ghost launch this album art Whammy Bar, Auckland Saturday March 13) with support from Dirty Pixels, Slumbug and Jang.
.
You can hear and buy Loud Ghost's All in a Day at their bandcamp site here