Graham Reid | | 1 min read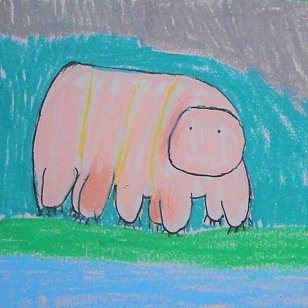 In keeping with Elsewhere's self-imposed ethos of taking you "elsewhere", we draw attention to this album out of Sweden which is about as "elsewhere" as we have heard in a very long time.
Noemie M Nours (aka Noemie Dal) apparently played at Auckland's Audio Foundation in mid 2019 (with Pumice) but other than this following description on bandcamp we can tell you little more: She describes her music as "all-ages bear-saving non-ideological vegan drug-free home-recorded lullabies from the forests of Sweden".
These wispy, weightless, slow lo-fi home recordings of an old piano, picked guitars (and other string things) and her high, thin voice follows a few previous releases (one entitled Kiwis Are Not Bears of 2019 recorded in Dunedin and at her Audio Foundation performance).
This is a sound so fragile, yet almost fractal, that it seems tentative, like she is stepping on thin ice on a lake so remote that she will beyond saving if she falls through.
The consistent tone and mood of Tardigrade Bounding – tardigrades are eight-legged micro-animals known sometimes as "water bears", hence the cover art – offer an ambient quality. Not one of pure relaxation but something more uneasy, like a spiderweb of delicate sound which could be broken by a careless move.
On first hearing this could be easily dismissed (her voice is not a thing of immediate beauty) however on repeat play – – like an ambient album – there is something ineffable and indefinable about the whole which can draw you in to whatever that strange world is which noemienours conjures up.
Elsewhere welcomes someone – and something – very elsewhere.
.
You can hear and buy this album at bandcamp here. (All proceeds from digital sales go to Greenpeace)
You can see here Auckland performance on piano here, start 12.40 in (after Pumice and Psychick Witch)