Graham Reid | | 1 min read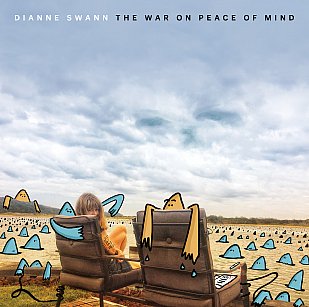 From time to time Elsewhere will single out a recent release we recommend on vinyl, like this one . . .
.
Because we have recently published an extensive interview with Dianne Swann about this album (and much else besides), let's just cut to the chase.
Here are eight, discrete originals across two tight sides of vinyl which embrace global politics (the brittle, arresting opener Gone Are the Days about climate change and Mother Earth "fighting back"), sensual and sexual longing (Reel You In), recreating yourself by learning from mistakes (Everything's New), a sense of loss and statelessness (Losing the War on Peace of Mind) and a truly beautiful love song-cum-plea in Show Your Heart ("what does it cost if you get it wrong?").
Swann has one of the most expressive voices in this country – the range here is from rock (the tough menace of Rare Good Feeling) to delicate but powerful ballads (Please Leave a Message) – and she compresses her songs into snappy pop-length models of economy and structure.
With Swann on guitar alongside familiar compadres Chris O'Connor (drums), Ben King (bass, guitar), Dave Khan (keyboards), Sandy Mill (vocals), and in places Brett Adams (guitar), The War on Peace of Mind is one of those albums where there's not a bit of fat or filler, and just about everything could be a single.
Despite her mileage with Everything That Flies, The Julie Dolphin and The Bads, you get a sense that suddenly this – after more 35 years in the game – is Dianne Swann's time.
At last.
.

You can hear and buy this album at bandcamp here.
It is also available on limited edition vinyl in selected stores.
.