Graham Reid | | 1 min read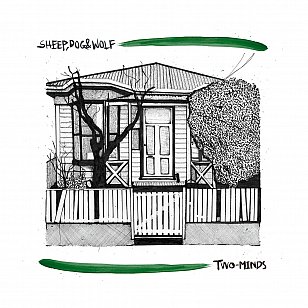 As we heard on Merk's recent album Infinite Youth, the landscape between adolescence and adulthood can be strange and difficult terrain. In that uncertain limbo, childhood is in retreat -- sometimes romanticised for its innocence and joy -- and an unknown life beyond teenage dreams is ahead as indistinguishable shapes cloaked in shadow.
The debut album Egospect by Sheep, Dog & Wolf (Daniel McBride) was a Taite Prize finalist in 2014 (but up against Lorde) and he described it as "an examination of my thoughts, decisions, anxieties and confusion at a pivotal point, entering adulthood".
It was fascinating but had selective appeal (it won the Critic's Choice Prize at the NZ music awards) and his new Two-Minds is unlikely to expand his listening demographic much.
It is intricate art music born out of illness, surgeries, anxiety, insomnia, the inner voices he was hearing and depression.
That adversity informs the lyrics on eight songs arranged for voices, piano, guitars, woodwind, brass and electronics. The abrupt rhythmic and dynamic shifts make for dense, intensely self-focused songs: "Give me something, I just need an emotion, I feel nothing but this pain and exhaustion" on the opener Months; "Don't wanna sleep so deep, so easily" on the title track; "My body melts into the sheets, I'm wasting" on the lovely, quasi-choral minimalist repetitions of Fine where (as on the closing piece Feeling) his closest reference points are in contemporary classical music.
McBride, who studied composition for a year, here – as did Dudley Benson before him – again defies conventional structures on songs which are often musical whirlwinds documenting his inner life and, in the case of the tense passages in Deep Crescents, aural parallels to his anxieties.
Two-Minds is a unique, intriguing, ambitious album of admirable musical complexity and reflects his intuitive approach to composition. But – as with Egospect– it is sometimes difficult to emotionally engage with as the shape-shifting nature and introspective lyrics mirror the troubled times and singular psychology which created it.
A cathartic collection of songs-as-therapy.
.
You can hear this album on bandcamp here.