Graham Reid | | 1 min read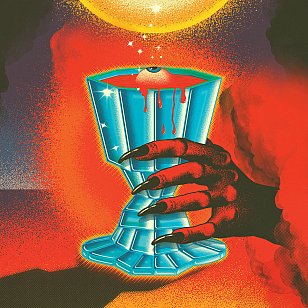 A decade before the ascension of Our Lorde to Grammy heaven, one of our most successful musical exports were the hard rocking Datsuns out of Cambridge.
In the late 90s and early 2000s they opened here for Sweden's Hellacopters and the White Stripes, and with Auckland's similarly-inclined D4 presented a formidable double bill of energetic thrash, rock and youthful enthusiasm.
The Datsuns impressed record industry types at the 2001 South X Southwest festival in Austin, Texas before a short US tour.
But Britain beckoned and they were championed by the influential radio DJ John Peel, played Top of the Pops, made the cover of NME (bannered as "heroes of the new rock revolution") and headlined at that magazine's 2002 awards tour, appeared on Jools Holland's television show, recorded an acclaimed debut album . . .
They trailed press notices like "deafening, defining and definitely one of the best band's you'll see all year", "the most exciting live band on the planet" and Foo Fighters' Dave Grohl said, "the Datsuns are what the world needs".
And for a while it was true: more albums (although their 2004 second Outta Sight/Outta Mind produced by Led Zeppelin's John Paul Jones received a critical drubbing in many quarters), international and local tours . . .
However their last album Deep Sleep was seven years ago so their new album – their seventh – Eye to Eye has had a lengthy gestation. During that time they recorded intermittently despite various members living in different countries. They last toured two years ago, again with the D4.
If they slipped off the radar, Eye to Eye confirms they're still unashamedly a punchy rock band with searing guitar solos and meaty riffs. Yet here there's also a discernible pop quality (White Noise Machine, Raygun) and rowdy glam (Sweet Talk, the stomping Moongazer) alongside their archetypal wheel-spinning, light-speed sound evidenced on the double-whammy of the opener Dehumanise and Warped Signals.
Hard rock of this kind – the offspring of Thin Lizzy, AC/DC, Metallica, Cheap Trick and Motorhead – fell from favour when the definite article bands in the so-called "garage rock revival" of the 2000s (the Hives, the Strokes, the Von Bondies) ran their course or their audience moved on.
There's nothing to suggest it's making a comeback at a time when R'n'B dominates and Miley Cyrus could recently have the top "rock" album on the US charts offering a pastiche of New Wave, disco, pop-rock and glam alongside covers (Blondie's Heart of Glass) with guests Billy Idol, Joan Jett, Dua Lipa and Stevie Nicks.
The current top "rock" single in the US is a vapid acoustic-based ballad by the tiresomely complaining Kid LAROI. Here American teenage pop star Olivia Rodrigo, Six60 and L.A.B. dominate the current chart.
However the 11-song Eye to Eye makes a decent enough case for loud, disciplined, pop-length rock'n'roll.
Although we've passed this way many times before.
.
The Datsun's Eye to Eye is available on Spotify here