Graham Reid | | <1 min read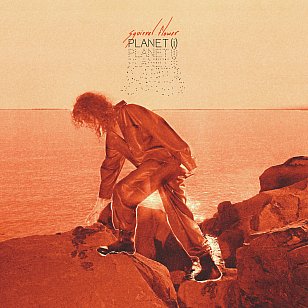 From time to time Elsewhere will single out a recent release we recommend on vinyl, like this one which comes on orange vinyl, has an eight-page booklet of lyrics and offers a download code . . .
.
This second album by American Ella Williams (aka Squirrel Flower) is one of those slow-grow albums which exists between alt.folk and indie.rock as she and her small band explore cold fury, aberrant weather, that great American project of travel/cars, the desire for solitude and much more.
All in concise, compressed lyrics where cars and the highway create a common thread (Big Beast, Roadkill, the dreamy Iowa 146, Flame and Flat Tires) alongside reflections of seasons and Nature (Deluge in the South, Desert Wildflowers).
Framed around acoustic guitar and her gentle, flexible, intimate vocals, Planet (I) works its magic quietly but allows itself to explode over gritty electric guitar washes when required (Big Beat where a grindcore Mazzy Star enters proceedings, anticipating Roadkill which follows).
There is an appealing, rootless and sometimes off-kilter quality at work here (Flames and Flat Tires) and if the mood turns wispy (or more obviously throwing in that rowdy counterpoint) towards the end, then that is where her journey has lead.
.
You can hear and but this album on bandcamp here, limited numbers of the vinyl available at certain record shops in New Zealand.