Graham Reid | | 1 min read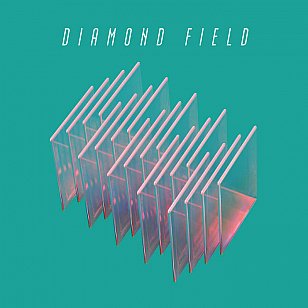 From time to time Elsewhere will single out a recent release we recommend on vinyl.
Check out Elsewhere's other Recommended Record picks . . .
.
Hey Andrew, the Eighties just called and said, "Job well done".
This shamelessly enjoyable album helmed by expat Kiwi, longtime NYC-based Andrew B White (musician, producer, album cover designer) pretends to be nothing more than the pleasure principle as filtered through Pat Benatar/Flashdance (as presented by fellow expat Miriam Clancy), Howard Jones-styled synth-pop, Nik Kershaw (there's Nik Brinkman here) . . .
Billing itself unashamedly as "21stCentury 80s", it shimmers over bright synths and beats (Bring Back Love features Matty J, now Matthew J Ruys), boasts snappy choruses, and should have producers like Rupert Hine (Howard Jones, Thompson Twins) and Mike Howlett (Orchestral Manoeuvres in the Dark) sending messages of congratulations.
It is easy to parody Eighties synth-pop (all that emotional dislocation) or turn it into kitsch but that's not what's happening here: this is a respectful and knowledgable tribute to the genre courtesy of original songs (in the style, but stand-alone items) and tracks like Spills Like Love (with Cody Carpenter) are just terrific dancefloor fillers in their own right. Check It's Your Time with Becca Starr and Used to Be with Chelsea Nenni.
So, the Rutles, Spinal Tap or David Brent this is not . . . but there better be Miami Vice-inspired videos with earnest men in pastel suits and lithe women in leotards, a compilation album This Is What We Called Music (which includes every song here) and a Karyn Hay interview on RWP after she's spoken with Alison Moyet.
Serious fun.
Job well done.
.
You can hear and buy this album on bandcamp here. It also comes on hot pink vinyl through Rhythmethod in New Zealand.