Graham Reid | | 2 min read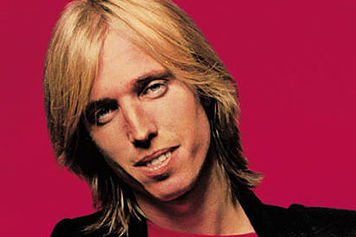 They say you should never meet your heroes and so it has been for me and Tom Petty. In more recent years I did a numbingly boring phone interview with a man I took to be a numbskull and prior to that I had endured a dreadful concert when he and Dylan went out on the road, were clearly out of it and were rehearsing in public. Whadda shit.
But that doesn't count as "meeting" your hero -- although I did have that experience too. And Tom had been a bit of a hero.
I loved those early albums with the Heartbreakers and only really went off him when he became prematurely geriatric with the Traveling Wilburys and turned from an electric rock guitarist into a plodding acoustic strummer. I couldn't have hated his solo songs like Free Falling (a real Neil Young whinge) more. His 2010 Live Anthology redeems a lot though, and reminds me that his home (unless he's stoned with Dylan) is the stage and not in an interview situation.
But I met him back when he was young and strong and hot -- and well, frankly stoned beyond consciousness.
He and the band turned up on the back of their second album You're Gonna Get It which was fine but didn't really build on or confirm the bristling promise and energy of their debut album. Some said it was his cocaine album.
Along with three other journalists I was scheduled for a sit-down with Tom one afternoon at hotel on Symonds St, the same hotel where a few years later I was almost knocked over by Billy Idol as he rushed to a car to escape the sole fan who had been waiting at the door. Billy was a sad sight.
But Tom was sadder.
He was ushered into a corner of the lobby bar where we had been asked to wait and which was notably darker than the rest of the room. Tom came towards us unsteadily, his shades firmely in place and a PR minder at his side ready to catch him should he stumble. Which he looked very likely to do.
He fell into the chair, flashed that famous toothy and goofy grin and then proceeded to get on a gravity defying lean. The PR person hauled him upright and he mumbled something about another chair. Another was brought, this one with arms so Tom could wedge himself upright.
What followed was a short, unhelpful and embarrassing interview session punctuated by long periods of silence. About five minutes in the PR person said, "Well I guess you've all got what you need" and Tom was hauled upright and led to the elevator.
I had been told earlier he would be doing a television interview immediately after us and so that night, maybe the following, I turned on to watch whatever that sorry spectacle might be.
And there was Tom, as alert as a bunny and cracking jokes, good natured and quick witted. I turned to whoever I was with and who knew about my pathetic and unpublishable experience and said the obvious, "I want what he was given in the lift".