Graham Reid | | 3 min read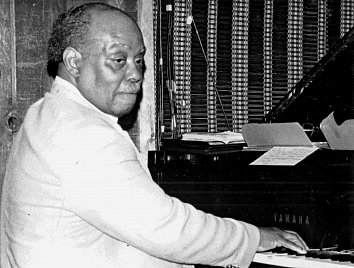 Sammy Price, who had been the house pianist on Decca sessions in the Forties (and played with the likes of Sister Rosetta Tharpe) among many other things, told me a very funny story which I remember to this day.
He'd been in Chicago and after a recording session the manager of the European record company wouldn't pay him. No money, Sammy, forget it.
So Sammy said he went out and got his biggest, blackest, meanest lookin' mofugger friend named Pistol Pete (so called after a shoot-out with 20 police in Times Square, Sammy said) and paid him just do one simple thing.
Together they went to the manager's office, Pistol Pete kicked in the door, strode across the room to where the club manager was by now cowering behind his desk, loomed over his sorry figure and pointed to him, then turned to Sammy who had followed him in and said in booming voice, "Dat him boss?"
Sammy got his money.
I met Sammy in 1984 when promoter Pat Shaw brought him through New Zealand on a brief but intense tour of 12 concerts and recording session (subsequently cancelled) in 13 days.
At that time Sammy was 75, could still play of course ("just point me to the piano"), but must have wondered what the hell he had done wrong to end up driving through the green pastures of a strange land on the way to a place called Tauranga.
Sammy was traveling with his attractive and very young "niece" -- not uncommon, I recall Screaming Jay Hawkins doing the same -- and to the best of my recollection he had nothing to eat other than soup. Told me learned that on the road. Didn't drink either (just Pepsi, Coke and water) and seemed to disapprove of it -- which was hard when he hit the liquored-up jazz festival audiences out for a good time and to watch a black man perform for them.
And Sammy was black, and attuned: when we encountered a few roadworks and Maori guys with Stop/Go signs Sammy turned to me and with a granite expression said, "So you make your black people work on the roads here too?"

There was no correct answer.
He was often amusing: he insisted he'd never owned a piano in his life, said contemporary jazz players "should stand in the corner and apologize" and thought Miles Davis was rude to play with his back to the audience. Sammy was old school, a jazz entertainer who'd grown up playing in the bars and clubs of Texas, then New York and Chicago.
He said Glenn Miller couldn't even blow his own nose, Mick Jagger was dismissed as "pitiful" and he could start a story with, "When I was in Ethiopia at Haile Selassie's palace . . ."
But he became increasingly sour as the tour went on. He rarely played the contracted two hours (the first half of his set in Whangarei later clocked in at 40 minutes) but after this was mentioned and he got over his sullen mood he delivered what he was being paid to do.
Sammy and I hit it off (because I wasn't the promoter I guess) and night after night he would drop a funny or insightful story, like how he loved the Japanese because they were respectful and they paid you top dollar . . . but how one night after a concert in Tokyo he came out to the lobby to sign and sell records and over the sound system he heard something familiar: it was the concert he had just played and someone had not only taped it but was selling cassettes.
"You can't trust them Japs," he said, "And I ain't racist."
After every gig he woud come out to the table in the lobby and sell albums, and happily sign them. But at Tauranga he was in a vinegar mood.

I was standing behind him as people came up, shook his hand and bought albums. For some reason he started to make comments over his shoulder to me.
"Look at this ol' bitch comin' up here, wanting to shake the hand of the black man. Old fuckin' withered bitch."
And then he would shake her hand graciously and sign the album.
"Here come another, love the black man she does, fuckin' old smiley face white bitch."
And he shook a hand graciously and signed her album.
And so it went. The language got worse -- he didn't drink remember -- and he was filled with contempt and hatred.
I am sure Sammy Price -- ripped off, racially abused in his homeland when he was young, suspicious of all whites with good cause probably -- had every reason to be who he was and feel the way he did.
But it was, for me, a long and mostly silent drive back to Auckland with his niece and Sammy looking at Maori workers on the roads and thinking whatever he was thinking.
And as I looked at them, I have to admit, I saw the world as he did -- and I thought the same.
Sammy Price -- despite saying "I'm gonna live to be a hundred" -- died in '92.