Graham Reid | | 4 min read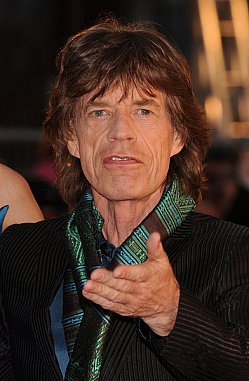 It's a little known fact, but Mick Jagger and I are real tight. And that's not just me saying that. The last time I saw Jagger -- whom I call Mick, of course -- he shook my hand and said, "Graham, we're real tight."
Of course there's a back-story here.
Let me put this in the greater context. It was November 88 and Mick was in town with his own band. He and Keith had fallen out or something so he was waggling his bony botttom around and promoting a solo album. He played a concert at Western Springs on Guy Fawkes night and that legendary one-off at the Gluepot the night before.
Of marginal interest was the guitarist in his band, Joe Satriani who was just starting to make waves with his album Surfing With The Alien, the follow-up to his debut Not of This Earth which he had financed with a credit card.
Satriani was, in his own modest way, quite a star and had a good story. He'd studied jazz with the great Lennie Tristano, and had taught both Steve Vai and Metallica's Kirk Hammett. He also sang back-up vocals on the first Crowded House album and, best of all, my teenage son Julian was a huge fan.
Satriani was the idol of lots of teenage guitarist who, like my son at the time, had rooster-cut spiked hair which hung halfway down their backs. They played in band with names like Anacrusis and Knightshade.
I can't remember the exact circumstances but the Jagger show was on the Saturday, the Herald entertainment section came out the day before, and Mick wasn't going to be available in time for a pre-show chinwag. But I was more than happy to go up to CBS Records office in Parnell earlier in the week and talk with Joe, and take along Julian who sat quietly in the corner, hung on every word, and got his albums autographed.
Joe was one helluva nice guy and we needed a photo taken. Fortunately Julian had been smart enough to bring along one of his guitars -- by good luck it was from the same company Joe endorsed -- so he got taught a few tapping tricks, had his photo taken with Joe, and the Herald got a nice snap of a leather-clad Satriani playing Julian's guitar.
We ran the story big on the front page of the Herald entertainment section. Of Mick Jagger, the day before his big show, there was nothing.
As I said, the paper came out on the Friday and that afternoon there was a meet'n'greet with Mick down at that ground floor restaurant in the Ferry Building, whatever it was called then.
I was scheduled for a 10 minute chat with Mick. But there was no point. Our entertainment deadline had passed, the mainstream Saturday paper wasn't interested in a few hurriedly dashed off lines, and so all I could do was wander down the road and take my place in the queue to meet Mick.
Two fortuitous things happened: Mick was fashionably late, and there was alcohol.
More fool me, but I had thought I would be one of maybe three or four people getting a precious few moments with Mick. But his record company -- also CBS who were slightly smarting I'd passed over their star-turn for the guitarist -- had invited dozens of record shop people, beautiful people, PR types and other lowlifes.
The journos were legion and all had an allocated 10 minutes before being rapidly moved on. It was going to be a joke, so I had a drink and chatted with people, then had another drink.
I can't remember after which other drink I got into a conversation with a young reporter from the North Shore Times Advertiser. But when she told me she hadn't been scheduled an interview slot I was outraged in that hilarious alcohol- fuelled way we all know. I had started my journalism at the NSTA writing record reviews for nothing, and how dare they treat my old paper that way?
But time was tight and so there was only one solution: I gave the girl my slot. All she had to do was pretend to be a "Graham".
She was stunned and numbed (so was I but by now that was for other reasons) but I simply poured myself another thumping red and with an airy wave of the hand let it be known that meeting stars was something I did every day so it meant little to me.
She didn't have a tape-recorder or notebook so I bailed up another colleague and told him the scam. He thought this hilarious and so she was outfitted with the prerequisites for an interview. When my name was called away she went, red of face and jittery with excitement. I was relieved, there was still far to much wine left to waste time dallying with a Rock Star.
Some time later in the afternoon there was a slight commotion at the far end of the room and it became clear that rock royalty was to pass among us. I was standing right by the exit when a record company woman bustled up and asked if I had been introduced to Mick yet.
I said no but that it was hardly worth the trouble. He was busy and probably wanting to leave, I had nothing to say that would be of interest, the paper wouldn't use a decent quote even if I got it, and anyway ? I gestured toward my glass.
No, she was insistent I must meet Mick and she would bring him to me.
And so in the closing overs of a very long and inebriated afternoon Mick Jagger himself, diminutive and teetering beneath a bouffant of hair and on stacked heels if I recall, was ushered toward me on his way out the door.
The absurdity of the moment overtook me -- this fleeting incident in his life and mine, one which he would not remember by the time he hit the street -- and so I laughed, extended my hand and said, "Hi Mick, nice to meet you. We're really tight aren't we?" And he, to his great credit and without breaking his stride, shook my hand as he made for the door and laughed.
"Graham, we're real tight." And he was gone.