Graham Reid | | 3 min read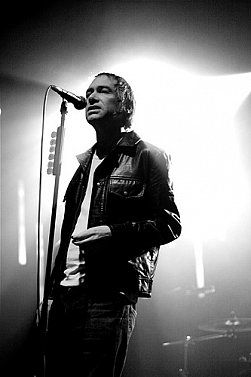 It was one of the saddest days I can recall, and yet it had started out so well in Birmingham, a place where I had been drawn to interview the Britpop band Ocean Colour Scene in their hometown. It was 1998 I think.
OCS never really made an impact in New Zealand, which was a pity because the night I saw them they were spectacularly good, playing a hard rocking and passionate show to a capacity crowd at the small Irish Centre on Digbeth High Street.
"All the bands we've been in," said OCS's likeable front man Simon Fowler, "have aspired to play the Irish Centre.
"The next venue up from here I suppose is the NIF which takes about 3500 people.
"So when you're in band that's getting hopefully known and you've played the small clubs where else can you go?
"This place was always the one, takes about 800. That's why we're filming this -- it could be the last time we get to play venues of this size."
In fact OCS had at that time -- on the back of their terrific Moseley Shoals album -- already been paying the bigger venues for a while, but this was them taking a step back to be with their loyal fans. Their album had been a kick up from their self-titled debut of four years previous, and they had been acclaimed by no less than Paul Weller and Noel Gallagher. (They opened for Oasis).
OCS guitarist/songwriter Steve Craddock had played on tours with Weller, the former Jam/Style Council front man, and he'd roped in the rest of OCS (aside from singer Fowler, who'd open Weller's shows with a solo set).
They were on a roll and their profile was building -- "Yeah, the Royal Albert Hall playing solo," laughed Fowler -- but some snarky critics were quick to dismiss them because of their connections.
But there was no denying their old-school fire-power which drew comparisons with Cream, the Who and of course the Jam. On the night I saw them they also delivered a cracking version of the Beatles' Daytripper and the Small Faces' Song of a Tailor.
It was one of the best gigs I had ever seen, and I liked them as people from the moment I was let into the dressing room that afternoon when they had finished their sound check.
Just by sheer chance I endeared myself to them too.
I pushed the door open and standing in front of me, barely visible through the clouds of dope smoke, was a face I recognised: Rico the famous Jamaican trombonist.
Without thinking I said, "Rico! It is an honour to meet you, sir" and extended my hand.
The band, who had been sitting off to my left registered this and seemed to like me straight away.
So we sat and chatted ands smoked and laughed.
Fowler said he'd heard the sound he'd really like for their next album: it was an old Fleetwood Mac record featuring the famously loopy and reclusive guitarist Peter Green.
I suggested they get Green to produce the album for them. Fowler laughed loudly.
"Yeah, let's do it. What a great track record, Jimmy Miller, then Peter Green -- and Lord Lucan for the third," he said, mentioning the notorious British aristocrat who had disappeared after the murder of his childrens' nanny.
But then Fowler's mood changed and he slumped forward with his eyes closed. He was drifting off in his own world and when he leaned his head back I could see tears in his eyes.
His voice dropped to whisper and every now and again he'd search the ceiling as if looking for a meaning. Tears welled up and rolled slowly down his cheeks.
He spoke in faltering sentences about Jimmy Miller, the fabled Stones' producer who had been seconded to record the album that became Moseley Shoals.
"Jimmy Miller, you know, just an amazing bloke," said Fowler. "One of the most inspiring people.
"I'll tell you . . . he phoned me up one night and said 'Can you lend me a thousand pounds?'
"I said, 'Yeah, but what do you need it for?'
"He said his son in the States had just been convicted on a third driving offence, no licence for the third time . . . he was going up to the chemist to get his Mum's prescription, she was dying of cancer. So Jimmy needed the money for a lawyer.
"He meets me at Birmingham Station and he was okay -- but that morning the record company had told me they were sacking him.
"So Jimmy gets in the car and he says straight away, 'So whattabout the record, huh?' And I says, 'They don't like it Jimmy . . . you're out'.
"So we drove down to the Federal Express office to fax this money off . . . And we drove down there . . . And Jimmy's just crying the whole time. And I'm thinking, 'I've just sacked Jimmy Miller?' "
By this time Fowler can barely get the words out while the rest of the room is a riot of laughter and massive joints being passed around.
"So we get there and Jimmy stays in the car. When I come back . . . he's just sitting . . . crying in the car, just tears right down his face.
"Right across the road there's this pub, like an Irish workingmen's pub so I took him in for a drink and sat him down.
"And we go there . . . And I thought, 'You know, when I was a kid I got a copy of Beggar's Banquet and your name was right there on the front'.
"I've still got that record . . . his name on the cover.
"And that to me . . . that says a lot about life. I'd never put money on that happening, you know what I mean? Would never have put money on that thing happening in my life . . ."
Producer Jimmy Miller died in October 1994. Ocean Color Scene began recording what became Moseley Shoals a few months later with producer Brendan Lynch.