Graham Reid | | 3 min read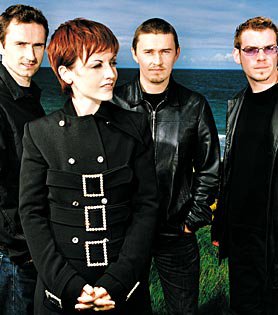 At the time, flying from London to Tokyo to interview the Cranberries seemed like a good idea. It was May '96 and they would be coming to New Zealand for a show shortly afterwards. My job -- at least in the mind of the record company and promoter who were footing the bill -- would be for me to interview the band, see the show, get excited, and have the article out so ticket sales would get a kick along in the days prior to the Auckland concert.
They hadn't counted on the Cranberries, whom I have ever since -- on the very rare occasions I mention them -- referred to as "the bloody awful Cranberries".
At the time they were onto their third album To The Faithful Departed and I listened to it on the plane with increasing horror.
Singer Dolores O'Riordan -- she of the irritatingly hiccupping vocal style -- was doubtless serious about the state of the world but in my subsequent article I felt obliged to mention sample lyrics such as this: "Bosnia was so unkind, Sarajevo changed my mind . . . rummmpatitum, rummmpatitum, traboo, traboo, traboo."
Or this socially responsible message to those doing coke on the god-awful Salvation: "All those people doing lines, don't do it, don't do it."
I also mentioned that for years Yoko Ono had been derided mercilessly for her lyrical follies but even she would go so low as O'Riordan on the gob-smackingly bad I Just Shot John Lennon where she wabled: "He had perceptively known it wouldn't be nice, because in 1980 he paid the price".
What?
If I recall at this point I ordered more drinks from the stewardess and started framing questions for O'Riordan who sounded a right flake.
Tom Hibbert wrote in Night & Day magazine: "What is this woman on about?" -- and it seemed it was my job to find out.
As it turned out I got lucky, O'Riordan wasn't up for interviews and I sat down in the lobby of the Hotel Okura in Shinagawa with the band's drummer Fergal Lawler and guitarist Noel Hogan, one of whom was effectively mute and the other either reluctant to speak or not that bright.
It was an awful encounter -- observed by the tour manager -- and they, doubtless having read some of the scathing reviews of the new album, were wary and slightly sullen.
What I did elicit was that off tour they didn't see as much of each other as they used to, and what was apparent was that a siege mentality had descended on them.
Fair enough as I later conceded, here was a band that critics didn't like but had sold 13 million albums at that time, twice as many as Oasis as Simon Fowler from Ocean Colour Scene reminded me in the days before I flew out.
The band also didn't hang out much together on tour either, and seemed keen to avoid parties or record company dinners. The guys said that because so much attention had been on O'Riordan -- in Melody Maker a couple of writers listed eight reasons to hate the Cranberreies, and all of them were her -- they could just walk the streets unmolested. In Japan Lawler went to a local temple.
It was an excruciatingly long "interview" in which so little was said that I felt I would have to pad my story with an account of the gig. I did in a way, but not in the manner that a promoter might thank me for.
They were the bloody awful Cranberries.
With ticket prices up to $NZ100 -- this is a decade ago remember -- the politely seated audience of 2222 was high with anticipation.
From the opening chords it was O'Riordan's show, the others just hung back and were utterly devoid of any personality (But I had already guessed that from meeting them.)
O'Riordan put on a performance that re-defined perfunctory: she waggled here arse a little in a kind of rock'n'roll gesture, and the whole thing seemed joyless, aimless and disconnected. It was also hampered by sound problems, although the backing tapes which got her through War Child worked fortunately -- because that was suspiciously like a lip-synch moment.
I couldn't have hated it more and what surprised me was just how emotionally distant each musicians seemed from the other. They barely exhanged glances and it really looked like a chore for them to be there. It was a heartless performance and they, aside from O'Riordan, left without a wave of acknowledgment to the audience.
As I said in what I wrote which ran about a week out from their Auckland gig (which I am told was almost a sell-out): "Rock'n'roll is about proving it on the night, whether that be the Sun Plaza, New York or New Zealand. At Sun Plaza, two weeks into an 18 month tour, they showed when things go wrong their lack of communication made for a show which became weighed down by its problems rather than rising above them. It plodded when it should have soared -- and you felt they had only themselves to blame".
I am told the band went into some kind of semi-retirement after this tour (on which they canceled some legs).
Tellingly, three years later they released an album under the title Bury The Hatchet.
Sorry to say, I never did.
I saw them once on the back of a dreadful album and thought they were . . . . well, the Bloody Awful Cranberries actually.