Graham Reid | | 5 min read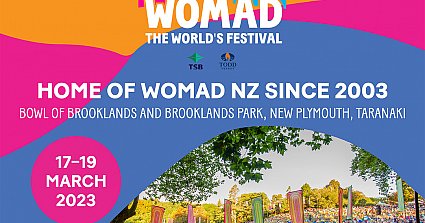 It can be tricky to get your head around a WOMAD line-up in Taranaki. There are some acts that are better discovered on the day since their live performance is so key to their appeal.


This year I'd put into that category: Korean act ADG7 who update folk tunes in a modern style, all while using traditional instruments; and Taraf de Caliu led by ex-Taraf De Haidouks violinist Gheorghe Anghel whose party trick is pulling on the thread of a broken violin string to make a truly mournful sound.
However I've tried to pick out five others below, each of which have some great albums that are worth checking out before the festival. Hopefully these might even convince some people who are on the fence to come along - it's an exciting event for music lovers and uniquely family-friendly too.
Mdou Moctar
The guitar playing of Mdou Moctar is a fascinating extension of the tuareg guitar sound that has been popularised by acts like Tinariwen and Bombino. It sounds like rock music turned on its head, with the beat suddenly revolving around a triplet feel and the riffs speckled with trills and odd runs of notes.
Moctar adds his own touches by being a guitarist's guitarist. You can get a sense of it by checking out his interview with Dweezil Zappa, where he explains his ability to double-pick at high speeds using only his bare pointer finger.
His guitar fires up to crazy levels on blinder track 'Afrique Victime' which also goes through a range of different rhythms across its seven minute length.
But he's not reliant on big riffs. On a slower track like 'Tala Tannam,' the voices and guitars meld into a hypnotic whole that is simply entrancing.
Sampa The Great
Sampa is based in Australia but returned home to Zambia to record parts for her last album As Above, So Below (2022). There is a great episode of the Song Exploder podcast here where she discusses working with a local producer to create the multi-layered afrobeat of 'Let Me Be Great.' The song also features past-WOMAD star Angelique Kidjo, so it also has that legend's wonderful voice on it too.
However as a hip hop fan, I can't help but also recommend her track 'Final Form' which is a total stomper. It's impossible not to nod your head to this one…
Cimafunk
If you listen to Cimafunk's track 'Funk Aspirin,' you'll hear a familiar voice. Yes, it's Dr. Funkenstein himself - George Clinton - giving a co-sign to the laidback groove. I'm sure the whole hillside at WOMAD will be dancing along to this one:
Cimafunk takes Cuban rhythms and traditions, then adds elements of US and African music to create a potent stew, with rolls of percussion and blasts of horns in the mix. If you want to get a taste, then what better way than dipping your ears into some 'Caramelo.'
Avantdale Bowling Club
There's so many great kiwi acts playing at WOMAD that it feels churlish to just pick one, but this list is just a taster so I'll restrict myself to saying - those interested should also check out the soulful vocals of Deva Mahal (daughter of Taj Mahal), the punchy dancehall rhythms of Rubi Du, and bass-riding rhymes of rapper Mazbou Q.
And I don't need to tell anyone about the all-star line-up of Fly My Pretties do I?
Though I'll bet money that the act that gains the most new fans at the festival is Avantdale Bowling Club. Jazz lovers will soon realise that the musicians in this band are the real deal. If you don't like rapping, then think of it as beat poetry because these are slickly written pieces of urban poetry. First try this video shot in the ruins of the St James Theatre, which gives a rundown of where lead rapper Tom Scott is coming from:
However to get a full sense of Scott's lyricism you need to hear a track with some of his trademark humour in it too. This description of the goings on at the local boozer on a Friday night is tragi-comedy at its most taut.
Garifuna Collective
Thought I'd risk showing my ignorance on this last pick. I'm sure I would've struggled to pick out Belize on a map until I just looked it up a moment ago (it's on the eastern side of Central America). I certainly couldn't have described what music they make there.
However when listening through the mega-playlist of WOMAD acts on Spotify, I was drawn to this next track instantly. The band itself is drawn from musicians from across the generations and they draw from a range of styles, including African, Amerindian and Latin. It sound like Punta at some points, while other times there'll be the off-beat feel of reggae.
Fortunately the Garifuna Collective are not only performing but also doing a workshop, which is a great feature of WOMAD where acts take the audience through their sound in a more intimate setting. It's an exciting prospect to get a window into how this music is made, so that's a definite on my calendar. Here's the track that first got me interested:
So there you have my picks, but hopefully people hit us up with more on Facebook. You're also welcome to have a listen to my personal playlist of songs here, which I'll probably keep changing over the next week as new things take my interest. Today I've been listening a lot to the tango music of Quinteto Astor Piazzolla and wondering whether I should've put them on the list above, but too late now!
Hopefully catch some of you down in Taranaki next weekend.
.
For Womad tickets and further information check the website here
.
Gareth Shute is the author of five books, including Hip Hop Music In Aotearoa (which won an award at the 2005 NZ Book Awards). He is also a musician who has toured overseas as a member of The Ruby Suns and The Brunettes. He is currently a member of The Conjurors and The Cosbys.