Graham Reid | | 3 min read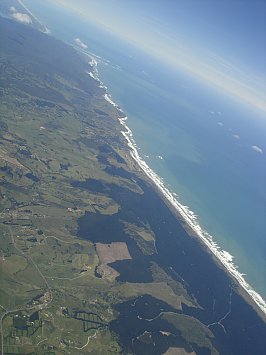 It really sneaks up on you, New Zealand.


I've travelled close to 30 hours to get here. On this final 4 hour leg, I watch a few M*A*S*H episodes as the expanse of ocean passes beneath me. Between each I check the progress map, as the impossibly not-to-scale plane edges closer and closer to the New Zealand shoreline.
The flight tracking is so accurate that when the nose of the virtual aircraft touches the coastline onscreen, I can look out the window and see it happening in real time.


I lay my eyes on My Island Home, for the first time in over a year.
The ocean turns suddenly aqua as it rears up to meet the shoreline, a strip of golden sand, and then the lush deep green -- these form a graded band around the entire country, the arms in which I will be held for the next two weeks.


I can look down, across this land, and map it geographically, but also temporally, personally.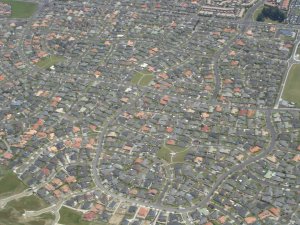 Different times, different existences: a holiday here; a road trip there; living in this place or that.
It is so familiar, too familiar.
It knows me too well, and I it. But every time I come to it, it raises a tear in my eye and I wonder why I ever left it -- because this is old-home, nurturing-home, home that helped me grow.


I walk in the door, and breathe in the air, and reclaim a part of myself.


It's good to be back.


The visit itself is the usual whirlwind. The most important of catch ups, with the one I miss the most; a family wedding; an inordinate, yet perfectly acceptable, number of afternoons in pubs, connections re-established. Of course, all too soon, it's over, and I'm packing myself again, tearing myself away, leaving once more
I don't know how travellers ever did this when they sailed across the world, sometimes never to see their people again. A tearful airport goodbye, and I'm cast out again, or rather I cast myself out
.

Am I casting myself out? Should I ever leave this place? Why did I leave it in the first instance? What does it mean to me now?


My feelings are mixed.
New Zealand frustrates me – it's so far away, far away from the world, and what happens in it. The UK angers me for the opposite reason – that it knows too much, it's world-weary because it's seen everything, and assumes that people are bad until they prove otherwise.
But I love them both also.


Perhaps it's me that has to form the link between the two places; I need to average them out. Not in some global, heroic sense but rather I need to find the best bits and promote them in my mind, and battle against the worst. I need to bring them together and synthesise them in my own existence.
This will take some time.

 Because now I have two homes.
One is where I used to exist, where I existed in totality. I go back there and slot in almost unnoticed, two and a half years makes little difference.
The other is a place that doesn't know me yet, only knows me from the point of fully grown (at least physically) man. It doesn't know my history, my family, my friends – it doesn't know the shape of me, it doesn't yet have a sense of me.
I am imprinting myself upon this new home. 

It's a discreet malaise that exists in many of the travellers I have met. They – the expats – seem in some ways lost, split.
We leave, because there's so much more out there, that we have to know and discover.
We leave so that we can test ourselves, to see if we can reinvent and regenerate ourselves. Only to discover there is no reinvention or regeneration, just change. 

And this change taking place in a new place, moulds us into that place, until there is a new home, which is good and different, and it's the home we chose rather than just grew up in.
Problem is, now we have two homes, and we're always going to feel a bit displaced. Because no matter where we are, we're going to be away from home.


We're trying to live in the whole world.

I come back to London, and look forward to what faces me there.
I'm carving out my place, this new place, and it takes a lot more time than I thought it would. 

I walk in the door and breathe in the air, and reclaim a part of myself.


It's good to be back.
For more of Rob Scott's writing - with an emphasis on interesting travel -- see here.
Other Voices Other Rooms is an opportunity for Elsewhere readers to contribute their ideas, passions, interests and opinions about whatever takes their fancy. Elsewhere welcomes travel stories, think pieces, essays about readers' research or hobbies etc etc. Nail it in 1000 words of fewer and contact graham.reid@elsewhere.co.nz.
See here for previous contributors' work. It is wide-ranging, huh?