Graham Reid | | 4 min read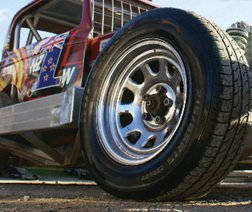 I blame my father for my addiction. Week in, week out, he dragged us kids along to Waikaraka Park Speedway for "Stockies" on a Saturday night during the Seventies. At first it wasn't so bad, if you stood under the terraced seating on the back straight you could collect the discarded Coke bottles and take them to the food vans for the refund.
By the end of the night you would have enough money to buy a pie and a Coke and on a really good night a toffee milk chocolate bar. There were risks of course, an errant bottle to the head, running into the support beams in the dark and of course fighting off my brother and sister for the spoils.
I can't remember when it first happened, but one night perhaps in 1972, I stayed seated in the stands while my siblings assumed their positions beneath the grandstand. I actually watched the racing and I was hooked. It's an addiction that has held me for over 40 years now and I still go to Waikaraka Park on a Saturday night.
I can now resist the urge to grab discarded cans and bottles, but I can't stand to miss a speedway meeting. I have done other things in those f40 years I just glossed over, just nothing as important.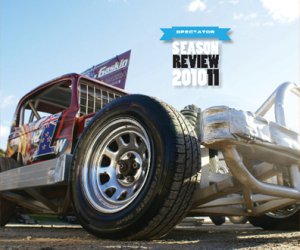 When pressed on what the attraction is in "watching cars go round in circles" as one person described it, I will attempt to put into words the joy of Speedway.
Stockcar racing is a sport unique to New Zealand.
Unlike American Stockcar racing, contact is intentional and encouraged. Like modern day gladiators, the stars are the ones who drive fast and aggressively and Kiwi drivers have a reputation for aggression on the roads that pales in comparison to our ability on dirt tracks.
There is a guilty pleasure I guess in all forms of motor racing that, although the thrill of speed and competition is great, there is nothing quite like a big crash to get the blood pumping. You only have to watch a sports news segment about any form of motorsport and it will invariably feature all the crashes and none of the racing.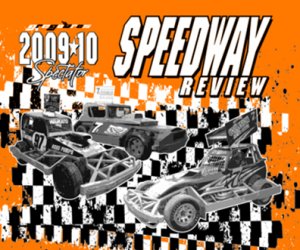 In a world that has become so safe and PC, there is a place where cottonwool is banned, where risks are taken, records are broken, even bones are broken. You pay a small entry fee and you can watch, and you don't have to wear a raincoat.
Stockcar racing is a sport that has held my fascination long enough for me to want to write about, take photos and even put together a few books (pictures) for the trainspotters like me who love to have a record of each year's racing.
My biggest gripe though has been the almost non-existent coverage of a sport I love and follow with a passion.
It seems the only way it can get a fleeting 30 second spot on the weekend news sports segment is to sacrifice one of our own. A sad indictment on a sport that draws bigger crowds every weekend than any other in New Zealand.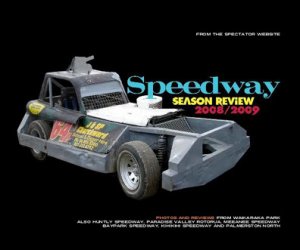 If a driver is hurt or killed you are pretty much assured a mention in the paper, some footage on the TV news, albeit after an article about Irene Van Dyke or Dan's ongoing groin issues, and then a follow-up article about banning dangerous sports.
Ironically, our sport's biggest gathering every season is in that famous tourist mecca of Palmerston North, a town that seems to have an equally bad relationship with media as the sport it excels in promoting.
The Superstock Teams championship is the jewel in the crown of Speedway. A two night affair that sells out every season and an event I'm sure the Rugby Sevens in Wellington was based on -- thats my theory and I'm sticking with it.
Five car teams from every major Speedway club in NZ attend in a knockout series of races to find the last club standing, while fans don the colours and costumes of each team. As always, Auckland is universally disliked which adds to the fun of being an "Allstars" fan (our team name which no doubt feeds the loathing). We have never won the event and its been run yearly since 1981, but we are still worthy of a boo or two from the other supporters.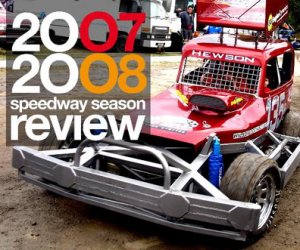 Every race is a highlights reel of action and yet the following nights sports news will ignore the event completely. I guess it just doesn't fall into the safe zones of rugby, netball, the Warriors, English Soccer, golf or tennis.
Hell, even horse racing gets a mention most nights.
Like all addicts, we go through stages. I'm almost at the stage of acceptance now. Acceptance that media coverage is not important, that my crusade to make everyone I know a Speedway addict is futile, and that I am one of the lucky ones that discovered it early in life.
The prognosis for the future is not good though, I think I would be classed a chronic user, unlikely to kick the habit.
Speedway, sometimes considered a relic of the past, a poor cousin to the tar-sealed racing you see and hear so much about, has been shunned for far too long.
It's a secret society that meets on Saturday nights, and one I'm proud to be a card carrying member of.
Greg Parsloe was born in Otahuhu, South Auckland during the Sixties and hasn't moved far from there. He has spent most of his working career in the print industry and has a love of typography. A handsome ampersand can make his day. Wants to meet Morrissey and tell him everything will be okay. Is counting down the days until the new speedway season starts Labour weekend.

His website is www.gregobro.blogspot.co.nz/