Graham Reid | | 3 min read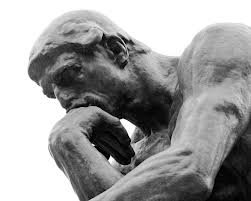 The flawed and ultimately doomed genius Truman Capote once wrote, "When God hands you a gift, he also hands you a whip; and the whip is intended solely for self-flagellation".
When we consider the nature of genius, it often seems to beat itself up up. Jack Kerouac, Jackson Pollock, Jim Morrison and others did it through belligerent alcoholism; Janis Joplin, Kurt Cobain, Amy Winehouse and far too many musicians to mention took themselves down and out through drugs; Capote -- along with many others -- went for both. And suicide, madness and an early death is all too common in the sphere of the arts.
Yet we must also look the other way, the bright side as it were. As George Steiner observed, "Genius remains a mystery . . . the ordinary man casts a shadow. In a way we do not quite understand, the man of genius casts light".
He wrote that in his "Not a Preface" to Yehudi Menuhin's 1976 autobiography Unfinished Journey. And Menuhin along with Picasso, Leonard Bernstein, Paul McCartney, Einstein and others seemed remarkable well adjusted, given their power, attendant fame and the circle of sycophants around them.
So those with a gift need not always beat themselves up.
The gifted but unflagellating trumpeter Wynton Marsalis is a case in point. He has been the artistic director at the Lincoln Center in New York for many years and his award-winning career in jazz and classical music (including a Pulitzer in '97) - in addition to his education programmes, on-going musical career and other activities -- suggest a man entirely comfortable in his own skin.
You wonder how he can play the blues with the authentic voice that he does.
On the other hand Eric Clapton -- crippling introverted when young, prey to drugs and alcohol for many years after achieving the accolade "God" when he was barely out of his teens -- took a more troubled road. Discovering his "sister" was his mother, fractious love (famously with George Harrison's wife Pattie Boyd), fumbled relationships, the death of close friends and a child . . . all, unwanted we can be sure, earned him the right to play the blues, a music he immediately connected with as an unhappy child.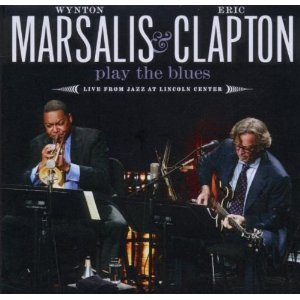 Given both men's proclivity to collaboration in the later years of their lives -- Marsalis is just 50 but seems older, Clapton 67 -- it seemed inevitable the two would come together on a project, as they did last year for a concert which produced a live album -- the unimaginatively titled Wynton Marsalis and Eric Clapton Play the Blues -- and a DVD of the same name.
It's the best dressed blues concert you will ever see. And to immediately subvert the notion that "the blues" is a sad, broke-down music the band -- whom Marsalis subsequently introduces and accounts for their impeccable credentials -- jump right in with the swinging Ice Cream which takes you right back to the origins of the blues in New Orleans but then gets an exciting, extended treatment.
With a band line-up replicating that of King Oliver's Creole Jazz Band -- plus Clapton's electric guitar and pianist Dan Nimmer -- they stomp and sway through a repertoire of Clapton's choosing (except Layla which bassist Carlos Henriquez insisted on, here recast as slow swing tune).
Among Clapton's choices are a grinding treatment of Howling Wolf's Forty Four (lifted by the New Orleans styled interweave of horns and his solo which connects back to his Cream days) which he says he first heard as a kid and has loved ever since; Joe Turner's Blues straight from the bars of the Big Easy; a lively Last Time which swings like very hip metronome and has Clapton in strong, gruff voice; and later Memphis Minnie's Joliet Bound.
Banjo-playing Taj Mahal turns up for the gospel Just a Closer Walk with Thee and the hoary old Corrine Corrina (and Stagger Lee on the DVD).
The words "genius" and "blues" are threadbare and damaged concepts these days, largely bereft of meaning through use and misuse. However both apply to what is here. The accretion of musical experience -- easily won or damagingly deserved -- make this often lively and joyous yet poised music qualify as blues genius, albeit from the concert hall rather than the juke joint.
You rather do wonder if Peg Leg Sam would recognise it, but you'd guess he might have wanted to command this much serious attention by such smartly attired people in such a prestigious location.
Not so much blues at midnight, but blues between cocktails and the supper club.
Owen Wood describes himself as such an occasional writer that he can't recall much published between '84 and 2004, says he prefers television programmes with real actors rather than reality people, orders real ale over red wine, and promises faithfully to get a Facebook and Twitter account as soon as he thinks of something worth saying. He has no website but does have a large library and "No, I don't like at home with my mother".

Other Voices Other Rooms is an opportunity for Elsewhere readers to contribute their ideas, passions, interests and opinions about whatever takes their fancy. Elsewhere welcomes travel stories, think pieces, essays about readers' research or hobbies etc etc. Nail it in 1000 words of fewer and contact graham.reid@elsewhere.co.nz.
See here for previous contributors' work. It is wide-ranging.