Graham Reid | | 3 min read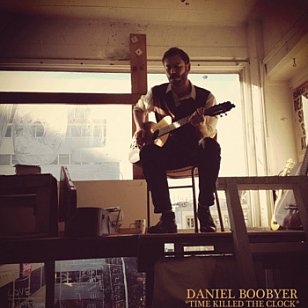 My new release Time Killed The Clock was sort of an unplanned birth.
It mysteriously crept into existence with the first track of the same title being recorded on my trusty Pioneer cassette deck that was pulled from a skip several years ago - yes, I did say cassette.
At the time I already had another album in the works to follow up my first release Dripping With (2010). This unreleased second album is Pulling Apart Mud and was originally meant to be a sister album to Dripping With, each with 18 tracks of watery and whimsically themed love songs.
However, it was slow going and uncertain.
Time Killed The Clock happened very quickly and in many ways was the grounding that was needed in my music. I didn't really have time to stop and think about what I was doing, and at the time I was living in an old Union Warehouse building where I had my own cabin on the top floor so had very little outside influence.
At the end of 2011, I decided to make an EP just for kicks.
The full album of Time Killed The Clock was still in the works and I felt like reaching out, so I called Peter King in the South Island [who does lathe cut vinyl records, see here] to make a small run (25 copies) of 7" records for Time Killed The Clock EP Part 1.
Peter King's records are amazing objects to hold; clear plastic discs covered in some sort of oil which helps prevent static. The quality of the record was ghostly and mysterious, partly due to my whacky mastering and the nature of the records -- with each being an original cut the quality varied slightly from disc to disc.
I had to listen to them all because they all sounded different from each other, and they are truly unique audio reproductions.
It was refreshing to have such positive interest in the records when I took them on a tour with bands Karaoke Taxi (Auckland) and Diving (Wellington), and managed to sell all except three which are now in the National library.
After making the 7" record I thought it would be fitting to release the full finished album on vinyl too, and after extensive searching and consideration I decided to have the record pressed in Kentucky (no, they don't just do fried chicken) at Palomino Records.
Around this time I was lucky enough to meet Benni Krueger, an experienced audio engineer (see here) who had come to my studio to pick up some reel to reel tapes I was selling on Trademe. I employed Benni to master the album, and we worked together over a week or two in the evenings until it fitted together and sounded right and ready to send to the factory.
After weeks of sending money and music and a lot of emails, I got to hear a test pressing, which gave me a fright at first as it sounded horrible. Turned out my worn-out old record player was not the best machine to judge the mix on.
So Benni and I went back to the studio and listened through a quality Eighties era turntable. We checked the correlation and levels and were satisfied with the result, giving Palomino the go-ahead to start production.

Getting the records pressed -- 106 copies, only 100 for sale -- was a great learning experience and it felt like a tremendous achievement. I would like to press my next album Pulling Apart Mud and may even re-release Dripping With on our newly founded label Tasman Records.
When I started releasing my solo work in 2010, I decided to start from the ground up. I had been through what was an emotional period and was keen to move on.
With these three albums Dripping With, Time Killed The Clock, and Pulling Apart Mud I have built a foundation for my music of love, obscurity and time.
Daniel Boobyer is a (very) independent alternative blues Wellington musician whose limited edition vinyl album Time Killed the Clock is available through Evil Genius Records in Wellington, Southbound Records in Auckland and Vinyl Countdown in New Plymouth, or by directly e-mailing Boobyer at daniel@tasmanrecords.com.
The vinyl album thoughtfully comes with a code card so you can download an MP3, FLAC or other on-line version of it. The digital version is also available through bandcamp (here)
His video for Shake Your Dirty Chain (filmed in Wales) is also at The Audience here where the public can vote for it and assist him to make more of his distinctive music.
Other Voices Other Rooms is an opportunity for Elsewhere readers to contribute their ideas, passions, interests and opinions about whatever takes their fancy. Elsewhere welcomes travel stories, think pieces, essays about readers' research or hobbies etc etc. Nail it in 1000 words of fewer and contact graham.reid@elsewhere.co.nz.

See here for previous contributors' work.