Graham Reid | | 1 min read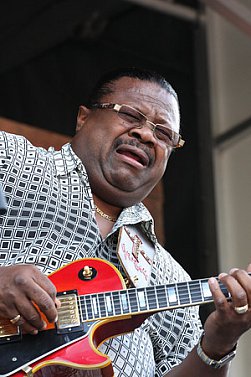 Buck Nelson is an American blues lover whose motto is "Have Canon Will Travel". He also takes wildlife photos, has a passion for motorcycles and captures images of people on the street.
You can check out his work here.
But for this photo essay, Elsewhere had him present a series of shots which capture the facial expresions of blues players -- of all ages as you may see -- when they are wringing out a guitar solo.
From the famous (Buddy Guy at his old club, immediately below)) to an up-and-coming nine-year old and players at the Mississippi Valley Blues Festival in Davenport in Iowa, here are the faces of the blues.