Graham Reid | | 5 min read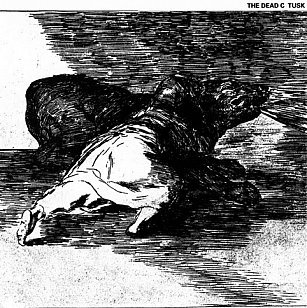 THE DEAD C: Tusk
Not to be confused with the album of the same name by Fleetwood Mac, this record by the Dead C has a cover almost as dark & enigmatic as the music inside.
The strange drawing of beast and man entwined has an abstract savagery to it which nicely complements the squall of noise contained within. In fact the squealing feedback throughout penultimate track 'Imaginary' could almost double as a stuck pig in its death throes.
And, perhaps to showcase the band's fine sense of humour, the boar on the cover bears an uncanny resemblance to Mick Fleetwood!
THE SMASHING PUMPKINS: Mellon Collie & the Infinite Sadness (below)

Until OK Computer, no album meant more to my teenage years than Mellon Collie. (The timing was fortuitous as it's hard to imagine anyone besides a teenager taking Billy Corgan's angsty poetic nonsense seriously!) While this enormous double album reached for the stars with its musical ambition I was equally enamoured with its artwork.
The intriguing amalgam of painting and collage recalls the Belle Epoque and in particular the films of Georges Méliés (whose Voyage to the Moon they paid homage to in the video for 'Tonight, Tonight') - the dame on the cover looks as if she could be poking through a painted backdrop on a Méliés film set.
BASEMENT JAXX: Rooty

You have to admire the audacity of the decision to decorate your much-anticipated sophomore album with an airbrushed illustration of an albino gorilla in space. Somehow it works and amplifies the record's crazy party vibe.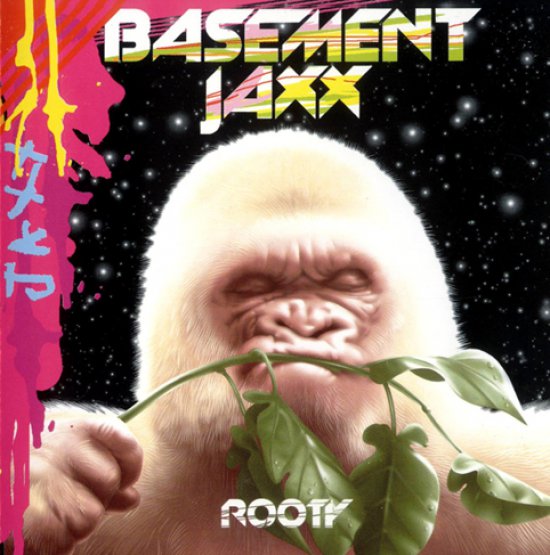 WEEZER: The Lion and the Witch

While I was living in Japan, Weezer toured and recorded this live EP during their stay. I didn't see them play but the cover of this collection nicely captures the surreal wackiness I experienced while sifting about the city. The illustration is by LA-based duo Kozyndan.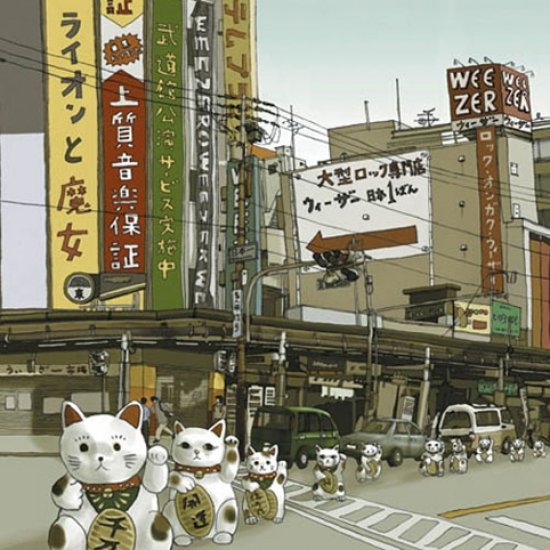 THE MINT CHICKS: Crazy? Yes! Dumb? No!

By fusing a bloom of rainbows with a skull-headed demon atop a horned beast, Ruban Nielsen deftly captures the contrast in his band's mix of scrappy noise and bubblegum pop. Nielsen has a freakish talent for creating compellingly bizarre creatures and this is one of his best. I imagine if Moebius had drunk a lot of fluorescent paint and sat down at his drawing board the effect might be very similar to this.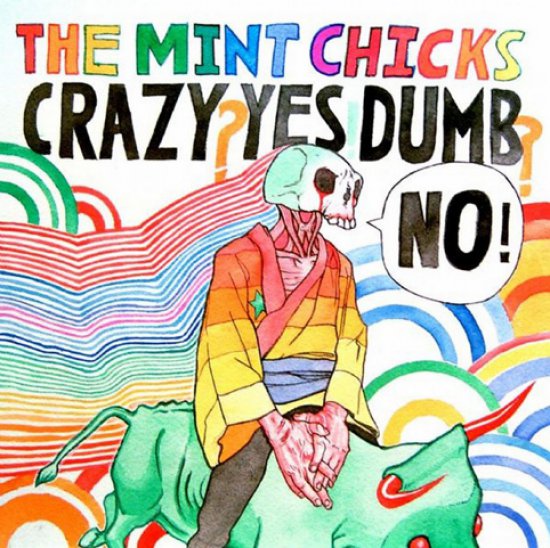 JOANNA NEWSOM: Ys
The music on Ys is classical in both sound and scope so it's fitting that the cover should look like something by an old master. Symbolist painter Benjamin Vierling created a portrait full of objects just as ornate and intricate as the detail in Newsom's lyrics.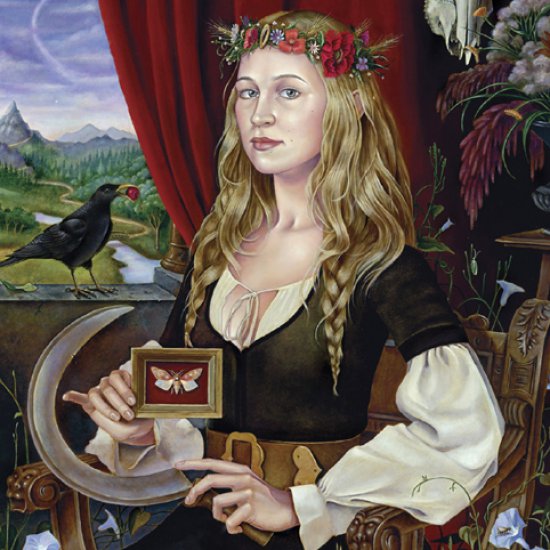 BARONESS: Red Album

Despite finding most heavy metal rather ridiculous and downright embarrassing - perhaps because I claimed to like it in my mid-teens - there's no denying the sublime artistry on the covers of Baroness' albums. Artist & the Baroness's rhythm guitarist John Dyer Baizley is like a 21st century incarnation of Alphonse Mucha albeit with less perfume & flowers and more skulls & general decay. Another recent masterpiece by Baizley is the cover artwork to Gillian Welch's 'The Harrow & the Harvest'.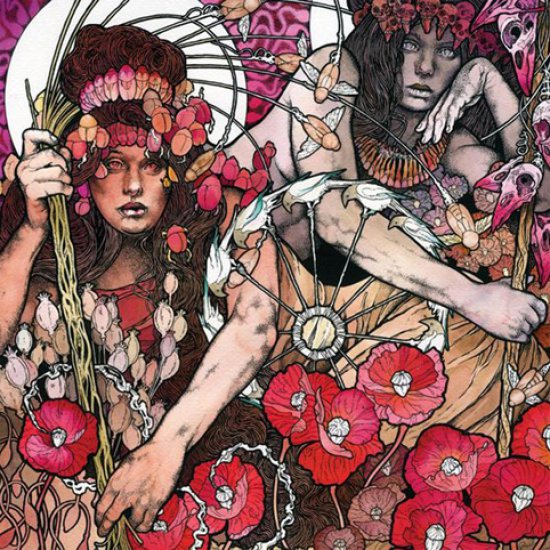 GRIMES: Halfaxa

Claire Boucher aka Grimes is another virtuosic artist. On top of writing, producing and performing all of her music she also creates all of her own artwork. Just as her music draws inspiration from a wide spectrum (from K-pop to Russian literature to David Lynch, just to name a few) the influences on her artwork range from Heironymous Bosch to contemporary manga. And while rendered in monotone her beautiful ink and brush drawing shares a wonderful kinship with the texture and detail of her music.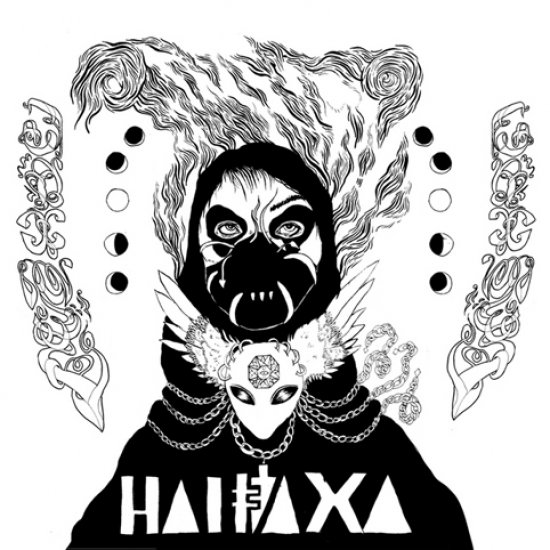 KANYE WEST: Graduation
For his third album Kanye West enlisted contemporary Japanese artist Takashi Murakami to design the cover and interior artwork. It was an inspired choice as Murakami's fetishistic obsession with maximalism in pop culture nicely matches West's own. The covers 'superflat' rendering of excess and giddy celebration does a great job of summing up the record's anthemic production and lyrics. Kanye was already a big deal by this stage but, like his mascot 'Dropout Bear' on the cover, this album truly launched him into the stratosphere.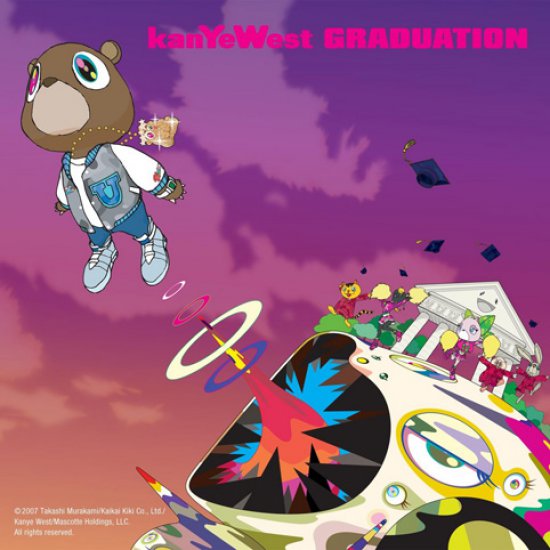 ONEOHTRIX POINT NEVER: Replica
On Replica, analogue synth wizard Daniel Lopatin aka Oneohtrix Point Never took samples of cheesy TV commercials from the 1980s and repurposed them into beautifully eerie, often sinister soundscapes. Nicely conveying this process is pulp horror artist Virgil Finlay's cover illustration. Created in 1936, it portrays a vampire's reflection as he looks in the mirror. A minion to the ad world myself, a cynic might say it does a fine job of showing the true face of advertising!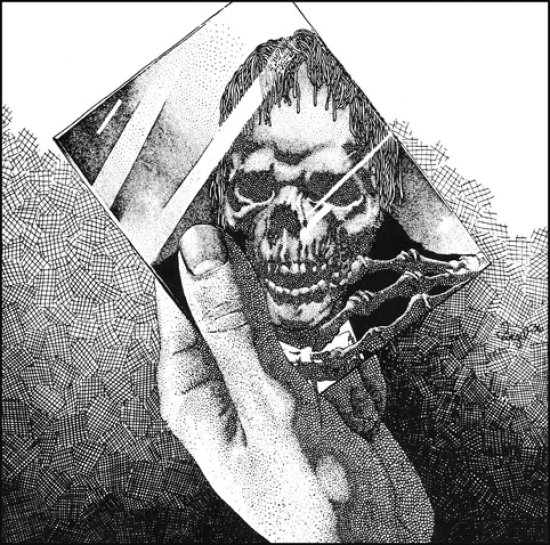 Being an illustrator is a great job to have if you love music. Drawing pictures is definitely something you can do whilst listening to music and not be distracted. In fact it's often constructive. I find it helps me establish a rhythm in my work and it can certainly contribute to the mood of a piece (if you let it). Most importantly it can provide inspiration.
Here are a couple of pieces in reverence to some of my favourite sonic titans:

GRIMES!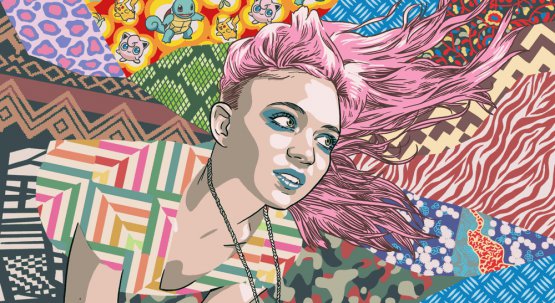 'MIXTAPE' TYPEFACE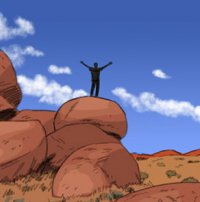 Ross Murray is an illustrator based in Mount Maunganui.
After his high school saxophone tutor told him he'd never be as good as Kenny G he turned his attention to drawing pictures.
These days he spends most of his time drawing feverishly and trying to forget he ever heard smooth jazz in the first place.
You can see more of his work at www.rossmurray.com
Other Voices Other Rooms is an opportunity for Elsewhere readers to contribute their ideas, passions, interests and opinions about whatever takes their fancy. Elsewhere welcomes travel stories, think pieces, essays about readers' research or hobbies etc etc. Nail it in 1000 words or fewer and contact graham.reid@elsewhere.co.nz.
See here for previous contributors' work. It is wide-ranging.